TRANSLATION NOTES: Please read some comments at the end of this post.
Last year, in November, I made an assessment of PlexEarth Tools for AutoCAD version 1, which among its innovations includes the AutoCAD's interaction with Google Earth. On this topic there are developments such as StitchMaps, KmLer, CounturingGE, kml2kml; in Plex's case, in my opinion, one of the best developments I've seen on both platforms, because it doesn't lose the perspective to exploit the well-known features of AutoCAD and fill the gaps left by Google Earth.
Recently I just reach the trial beta version 2.0, which will be soon coming to market. At entry, is an interesting development, here I leave you my first impressions.
About what AutoCAD
This version comes for AutoCAD 2010, and is ready to run on AutoCAD 2011 that at least includes transparency. Clearly, it runs on Civil3D or other application of the 2010 version, I'm not sure about 2009 and definitely it does not run on any other previous version as its legacy did.
Development, once installed is activated automatically as a new tab of the ribbon, with obvious advantages of this ribbon, allowing you to turn off or turn on panels in a practical way.
What it is included in this version
The panel design is done on "what's obvious" separate under a logic with enough practice; so that I tested this version without manual and release notes, and almost by intuition of what I expected it should advance, so I managed to understand what do buttons serve to.
Coordinate System

. Here, without much return, let you choose the country and UTM zone.

Images

. Here are the options to create an images mosaic, it can also be extracted from an existing polygon, drawn along a path, creating the mosaic according to the established approach.

Camera

. Here are the functions for focus and synchronization of Google Earth which is based on AutoCAD's deployment or vice versa. In this, it bears some resemblance to what Microstation makes but that falls short.

Create

. This is new and very renew to what we did before. You can create points, paths, and polygons, with

everything you need for it

(*) in AutoCAD and it will be updated automatically to kml. It has even the option to generate types of points based on AutoCAD symbols; Google Earth's and even, an html path.
Basically this function is for drawing on Google Earth, with the precision of AutoCAD. Therefore to complete the operation nothing is left in dwg, only in Google Earth, plus the satisfaction of having done on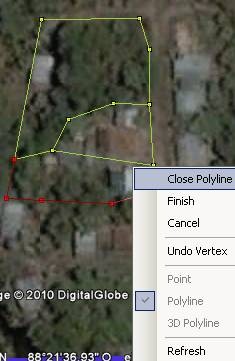 AutoCAD.
Scan. This is just cool (*), allows you to draw on Google Earth, points, polylines and 3D polylines that will be stored in the dwg. It even supports snap! on Google Earth, and what is drawn is created on the dwg.
This scanning mask is super-interesting, once you start the command freezes the zoom in both programs to ensure consistency. A right button let us change the functions or the refreshing that it's sure has released a headache for the trick that these guys have smoked.
In the background it is the inverse of the Create task, but it's to draw on a dwg, clicking on Google Earth. Ultimately, the single object is drawn in dwg, nothing on Google Earth.
Export to Google Earth. Here you can send objects to kml, and also send pictures. This latter is great, because you can export georeferenced images in AutoCAD and few (very few) tools do this.
Ground and Surface. Here they had thought and hallucinated a lot (*), because they added features to create digital terrain model, surface and contour plot not only from Google Earth's data.
It can import from Google Earth, creating a grid, but also supports terrain models made by other programs (like Civil 3D) objects made on CAD (points, 3D polylines, breaklines, polyface mesh, outer / inner boundaries, etc.) which gives AutoCAD the simple potential that once can only be done with Land and Civil.
It can be calculated volumes between surfaces, creating points from parsing text; labeling contours … it must be seen! Because surely it has more to show us.
Services. Here it has to be set general parameters, such as the path where images are stored, Google's stream waiting time, activation license, etc.
When and how much does it cost
For now I'm testing the beta version, but in my opinion it's ready for use. It has many smart features already incorporated, including:
When an image is going to be captured, whether the field is active, it automatically turns it off with an acceptance / rejection message.
Conversely, if you want to import a Google Earth's digital model it warns if the field is not active, allowing accepting or rejecting the change.
I suppose that when stable release will be launch, it'll be available the manual, and it would not hurt if Spanish language is activated, because I feel that this tool although born in Greece, can have a good reception in our Hispanic area, considering that Google Earth has come to overcome the absence of data in many areas.
I don't know the price yet, but I do not believe that they will go by the previous licensing based on transactions, which I find less functional in some environments. I expect them to go for a permanent license, by the way I wonder:
How much should cost an application like this?
TRANSLATION NOTES:
(*) Con todas las de la ley: Spanish Idiom, which means when you can do a task or some new action without having any difficulty.
(*) Esto está de piquete: Spanish idiom applied when something is really functional and good for our purposes.
(*) Aquí si la fumaron verde: Author's Idiom alluding to what curious and difficult studies have they done to create that task.