Just a few days from a long trip to London and then Amsterdam, let's take a look at what the Danish might impress us that this time comes together as finalists.
The finalists in the Government and Geospatial issue
GeoSite a Denmark company will present a smoke using connection via mobile, via web services that interacts on both tracks. From the field, it can be captured data such as photographs and xfm attributes to be sent via wireless to MicroStation and also from here answer well. The best is that it is an implementation of municipal approach.
They will make a presentation on 19 at 11 am.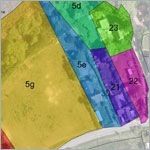 IT Developer, also Danish, will display a cadastral application development by using Web Feature Service (WFS) standard.
This really looks interesting, considering that for this to work, they will have had to put the data in Geospatial Server via idpr (hopefully, not via Project Wise). It should be from the first applications on xfm exploiting this standard, and certainly that is the way because until now the xfm remains a very special Bentley's thing although it takes several years to exist and supports the standard. Web Map Service is seen as very common; this in good Spanish means that it can show the map as an image and as a review option attribute, but WFS involves to bring the vector layer with its attributes table under the OGC standard which can recognize any other program like ArcGIS, gvSIG, etc.
Both will make a half-hour presentation on October 19 between 11:00 and 12:00 am. I guess their English will sound more German, and in those Asterix's books in Germany. Tvilum Landinspektørfirma.
The other finalist is also Danish, which competes with his 3D model on the fly. It seems he won't have an exhibition, but surely will participate in the theme table.
In my opinion, the WFS will take the prize.
The countries from the finalists
From the Latin American environment just Venezuela and Brazil, both in the power generation plants topic; those joined with United States totalize 11 in the Americas. The rest are, 21 from Europe, 14 Asian, 2 African and 1 in Oceania as shown in the following table.
 United States (10)

 United Kingdom (8)

 Australia (6)

 China (4)

 Denmark (3)

 Czech Republic (2)

 Belgium (2)

 Arabia (2)

 Holland (2)

 Singapore (2)

 United Arab Emirates (2)

 Malaysia (1)

 Bangladesh (1)

 Namibia (1)

 Ireland (1)

 Egypt (1)

 Vietnam (1)

 Italy (1)

 Slovakia (1)

 Brazil (1)

 India (1)

 New Zealand (1)

 Venezuela (1)

 Germany (1)
The finalists companies
For now I will mention the categories and companies nominated. Just for purposes of merit … and traffic.
Communicating Through Visualization
A02-Architecture Office
AAPROG architecten bvba
Woodside Energy Ltd.
Connecting Project Teams
Crossrail Limited
Scott Wilson Group plc
Scott Wilson Group plc
Innovation in Bridges
Atkins
High-Point Rendel
T.Y. Lin International
Innovation in Building
Atlas Industries
Henning Larsen Architects
McCauley Daye O'Connell Architects Ltd
Innovation in Campuses, Airports, and Military Installations
Garver, LLC
Sitech Services B.V.
Zaha Hadid Architects
Innovation in Communications Networks
Precision Contracting Services, Inc.
Telefónica O2 Czech Republic
Innovation in Construction
Land Transport Authority
New York State Department of Transportation
PT McDermott Indonesia
Innovation in Generative Design
BDP
Henning Larsen Architects
Morphosis Architects, Inc.
Innovation in Geotechnical and Geoenvironmental Engineering
Orion Engineering Inc.
State Geological Institute of Dionyz Stur
Technital S.p.A.
Innovation in Government
GeoSite.dk – GIS4Mobile
Odense Kommune
Tvilum Landinspektørfirma A/S
Innovation in Metals and Mining
Aurecon Hatch
Bechtel Australia
PDC Consultants
Innovation in Power Generation
ECIDI – Pumped Storage Power Station
Engevix Engenharia S.A.
ESI Inc. of Tennessee
Innovation in Process Manufacturing
Grontmij Industry
GS Engineering & Construction Corp.
Royal Haskoning Industrial Engineering
Innovation in Rail and Transit
AECOM – Neasden Depot Upgrade Project
Mott MacDonald Limited
SREI Infrastructure Finance Limited
Innovation in Roads
Aurecon – SH18 Hobsonville Deviation
Parsons Brinckerhoff Australia
Scott Wilson Group plc
Innovation in Structural Engineering
Arup Singapore Pte Ltd
MSN Prestressed Concrete
Y&V Ingeniería y Construcción C.A.
Innovation in Utility Transmission and Distribution Networks
Central Southern China Electric Power Design Institute
imp GmbH
State Nuclear Electric Power Planning Design & Research Institute
Innovation in Water and Wastewater Treatment Plants
Carollo Engineers
Carollo Engineers
MWH Global, Inc.
Innovation in Water, Wastewater, and Stormwater Networks
Arizona American Water and Narasimhan Consulting Services, Inc.
CH2M HILL
Westernport Water