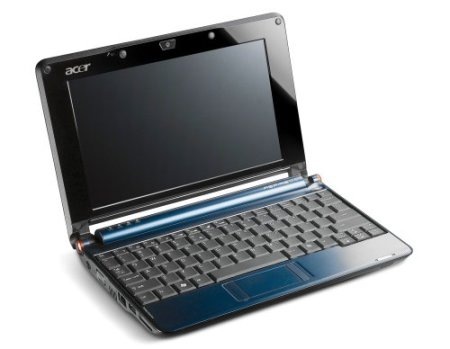 Some days ago I had considered testing how it works a Netbook in the geomatic medium, in this case I have been testing an Acer One that rural technicians commissioned me to buy on a visit to the city. The test helped me to decide if my next purchase will be invested on other high performance HP or if these new solutions can be viable.
The equipment
These machines are not designed for very resource-consuming processes, however this does not mean they do not have sufficient capacity:
1GB RAM
160 GB Hard Drive
10" Screen
It brings three USB ports, Datashow port, wireless connection, multiple cards and audio / microphone.
The keyboard is slightly smaller, no problem for those who write with two fingers (as hens eating corn) but if when we were kids we took a typing course; it takes a little getting used to it. There's a bit annoying the arrow keys and mouse handling with finger is half disarm, the drag on the right has zoom capabilities but the buttons are very hard to press, I think it would better to work with an external mouse.
The greater reason to decide that this isn't an equipment for hard work, is the size of the screen that tire the eyes, it's good for travel but for being eight hours breaking our head with vectors and a black background… I don't think so. Although, it has a port for connecting a monitor in case we want to use it in the office.
As for software, it comes with Windows XP, which is good for low resources' consumption, although it's a Home Edition version that doesn't bring IIS … bad for Manifold. It also comes with a 60-day version of Office 2007, and just in case it brings Microsoft Works which is always from Microsoft, but at a very low price.
Working with CAD
I have been running on this MicroStation V8 Geographics connected to an Access database via ODBC. Gentlemen, it works without much difficulty, Bentley Map feels heavier but not to the extreme.
Loading six orthophotos .ecw 11 MB each, it's not so bad. Twenty two cadastral maps 1:1,000 dgn… no problem.
Converting an ecw to hmr… ogh! Here begins the good test, the machine doesn't have high performance but finally did it in 2:21 minutes; it became an 8MB .ecw to a 189 MB .hmr, an absurd conversion I know, but this format runs very fast in Microstation. I don't think it's ideal to work with .tiff because of its weight, but could be an .itf option that has extra capabilities.
Definitely, with Microstation goes well this little machine, although there are others that have an NVidia card that surely makes them have better results.
Conclusions
For lightweight programs like Microstation I see it well. I don't think gvSIG with its recent changes operates here, unless the boys optimize the use of resources to work with many layers or connect to OGC services.
I get quite pleased for what it would be my use: I have loaded Microstation V8, BitCAD, Manifold GIS, Avira, Microsoft Works, Live Writter, Foxit and Chrome. After a week I'm satisfied in my frequent flyer status, blogger and CAD / GIS amateur… it's a pity that the machine was borrowed.
For the $ 400 worth this toy, I don't see a bad investment but we must consider the profit that others can expect. It is a good alternative thinking we can walk with it in the inner pocket of our jacket or coat, because it has the size of an agenda, while it becomes safer to carry it in the midst of a portfolio, it's less risk than carrying a Targus briefcase in environments where all offenders assume what's there inside.
We must also consider the cons, since even its weight is very manageable, not bringing CD-ROM force us to include this accessory as an extra; with the 8 GB USB program's installation doesn't seem complex but if it is needed to format or detoxify from a criminal virus… I have my doubts. If we add the wireless mouse with AA batteries and graphics tablet… is likely it becomes almost as heavy as one of 14".
If I had to buy high-performance equipment, I would prefer that $ 500 Compaq with above 2 GB of RAM, Intel Duo and single video card. The truth is that for the short time netbooks are on market since ASSUS; it's surely that in year and a half we'll have very robust machines in these thumbnail formats.
Website: Acer Aspire One