Every day is easier to give technical support if you leverage the benefits of Internet connection and remote access programs.
The problem:
A technical cadastre, in a municipality with poor access roads placed 48 miles away, called us. He said that opposite to him were the Corporation of trustees in order to view a demonstration and nothing seemed to work. He spent 5 minutes to explain the problem, we invest 10 in trying to understand-and explain- to eventually reach the conclusion that the pressure coach made him not to understand anything and that we will hardly be able to provide assistance by telephone.
Previously he worked using LogmeIn, which is a very robust platform to access computers remotely via Internet or Intranet. One of these nights, a Mexican egeomated friend suggested me TeamViewer, given that we would work with a slow connection via modem and connecting with toy laptops (Acer Aspire One netbook). I have got a surprise after belittle what seemed to be a very simple tool.
How to run TeamViewer
You have to download it, choosing the platform on which we operate. In this TeamViewer is the best, it can run on Windows, Mac, Linux and even on mobile (I-Pad, Android, iPhone). It is necessary that both users run the same software version, if not, the system alerts the user to update, I mean version of TeamViewer, no matter if you are working on different operating systems.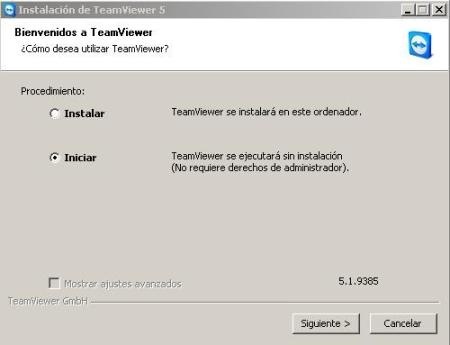 It is not required to install it, if it is done deal with administrator rights. With the Start option runs with almost all features; I prefer this because with that every day is a new version becomes one can be installed every time. Also run it in this way is free, provided that it is not for commercial purposes.
Once executed, the system provides a computer identifier like 145 001 342 and a 4-digit password but you can personalize it. This is the number that user should give when he wants to connect remotely, is written in the right pane using the Remote Assistance option and enter the key.
Once connected, it can be seen what the user is doing, including having control using the mouse or keyboard. There are basic features such as instant messaging with voice and file transfer which give more use to the program.
The solution
The user connects to the Internet, download the TeamViewer (if he had not already done), run it and send us the ID / password. With this, you can gain access to the computer and solve the problem; it's also possible use it to connect to a remote machine where the system itself is working properly during the presentation.
TeamViewer potential
The usefulness of this tool is multiple. Just when I showed the connection via remote support, but there are other options for transferring files, presentations and VPN connection. Also if you install it, there are more options to manage users, what we share and some other intricacies.
Briefly, I see much potential in these times that learning communities are giving a different value to the classical training if we take advantage of this connectivity.
A utility may be for remote support purposes, it's also possible that multiple users can connect to the same machine, may be being seen by different users in different specialties. For example, a programmer, a technical mapping and a local technical support, can be connected in order to solve complex problems.
Another interesting utility is for remote presentations such as displaying a system that is installed on a desktop machine or that deals with data that cannot be moved to an external disk.
Also for training purposes, it is very functional. A technician may be lecturing across the world and have different online users watching the process, including interacting with each other.
It can also be very handy if you plan to travel, and is expected to have access to the computer left in the Office.
The paid version can support more equipment, including creating a custom panel to distribute, what can bring the key, logo and colors which not seems to be of TeamViewer.
According to the company says, the connection is encrypted, ensuring security. However, it should teach users what is happening when it's provide remote access, because it can be used in a mean-spirited for espionage purposes.