Unlike the geospatial area where Open Source applications outweigh the custodial, very little free software we have seen for CAD apart from the LibreCAD initiative which still has far to go. While Blender is a fairly robust tool, its orientation is to the animation and not to the CAD applied to engineering, Architecture and Construction. The form how Wine and Parallels solve the cross-platform problem has been a palliative for those who expect to work with Mac or Linux, and while AutoDesk starts releasing versions for Mac in 2010, Linux seems to lack a tool like AutoCAD or Microstation. Just are released Ares and Medusa which are very mature tools and the few with support for PC, Mac and Linux.
Bricscad has now been announced; one of the solutions that, though was started in IntelliCAD a few years ago, now is an independent platform of that model perhaps for its positioning with worldwide representatives and its promising growth (100,000 licenses). There are many developments on CivilCAD both in surveying area, as engineering and modeling. Solutions as CivilCAD run on Bricscad solving the drawback of needing full AutoCAD version to run; who knows if at long-term we could have CivilCAD for Linux.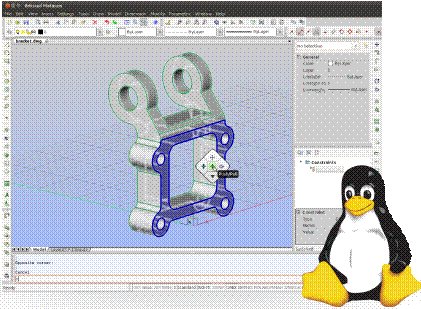 Among the most attractive of Bricscad V12 is working directly on DWG without requiring export or import, even recognizes AutoCAD formats from 2.5 to 2010 (does not include the new AutoCAD 2013 format that barely comes). Already in these versions things like parametric constraints are included.
The fact of being an output from IntelliCAD, despite the fact that is no longer from it, retrieves part of the legacy as DWG format recognition and keep the logic operation in many of their routines. That's why are LISP, BRX, ARX developments and in Windows case, VBA.
This helps to make it easy to find users who dominate the tool and reduce the learning curve; it is said that an AutoCAD user is already in the new environment in a week without requiring an intensive course. Beyond, Bricscad has innovated in the usability with tools such as quad, which reduces the number of clicks on repetitive routine or suggested by the workflow especially in 3D modeling.
Stuff it has, that stand out:
Rendering is on the fly, which means working on the design and objects visualization is in a rendering condition. For other solutions, this is only possible as a rear display and as an image.
You can edit external reference layers files.
You can make shaded cuts (hatch).
Section cuts in 3D objects with rendering included and in option for reuse in the drawing (not only in the layout)
You can change the print sheets settings (layouts) simultaneously, even copy properties from one to another.
The dimensions are associated to benchmarks, so that when you move an object, the dimension changes automatically without editing on the nodes. This can even be done in paper space.
It's amazing how it operates, with a minimum requirement. For Windows runs on 256 MB of RAM although 1 GB is recommended, contrary to AutoCAD 2012 and 2013 where 4 GB are suggested.
For Linux, run on the following distributions (or higher): Fedora 14, OpenSuse 11.3, Ubuntu 10.04
And for the price: One-fifth of AutoCAD's cost.
In conclusion we consider interesting news, the Bricscad V12 for Linux.
Here you can download to test
Here you can learn more about Bricscad
Here you can see applications developed on Bricscad
Here you can download it for testing
Here you can learn more about Bricscad
Here you can see applications developed on Bricscad