の場面では、ファイルを開くときに、それはAutoCADが狂ってしまったとコマンドバーが言うようであることが起こる可能性があります。
<C開くに描画の名前を入力:プログラムファイルを…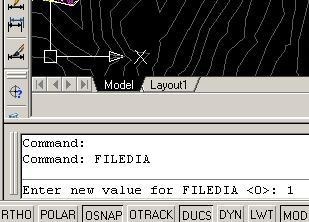 問題:それは私達のオープンを適用したり、ファイルのコマンドを保存するために使用するブラウザ
It is resolved with the command FILEDIA.
Attention! It is not FIDELIA, like grandma's name from Gijón, but FILEDIA which becomes from FILE DIALOG.
Write FILEDIA then press <ENTER>, write the variable 1 and that's all.
Something similar may happen with the commands and it is solve in a similar way using the variable CMDDIA.