A while ago there was a practical application from Zonums's friend that made this role without much hindrance.  Unfortunately, the friend was very strategic to create an expiration date for its solution, so that if you open it now says it is expired; it is very likely that he sell the license … blah, blah, blah.
Well, what we want is to transform kml/kmz files to dxf format for use by a CAD editor type AutoCAD or MicroStation.
First tip: don't be unfaithful unnecessarily.
Make sure the program you use don't do this task, so you don't have to resort to an extra application.
· In Manifold's case, you only need to call the kml, assign it a projection where we want to export and send it to dxf. It's so simple for only $ 245.
· Just another economical option is Global Mapper, which is worth $ 299.
If these programs which are worth less than $ 300 make it so easy, it is likely that the commercial GIS program you use does it also, so try first with what you already have.
Second tip: Do-it-easy and without hacking.
In this case, we will do with gvSIG, taking advantage of its free license and and anyone who used ArcView 3x should learn to use the basics in a few hours of passionate self-taught.
Third tip: Stop reading me, just do it.
1. Open gvSIG
It must be gvSIG 1.9 or higher, now you can use 1.11, since the previous stable version 1.3 does not open kml files. gvSIG is downloadable from its page, and here I had compared some of the advantages of this release that we hope soon to graduate as gvSIG 2.0
2. Create a view
Once you enter gvSIG, the "view" option is selected in the project manager and pressed the button to create a new view.
You can give it a name, touching it and using the button "Rename", in my case I have called "Cadastral". In the properties the desired projection is configured for the view (not for individual shapes)
3. Open a view
To open to view, play double-clicking on it or play and press the "open" button in the right pane. This should open the kml layer, according to the characteristics that it had, you can open as many views and layers you desired as well as the ArcView layers.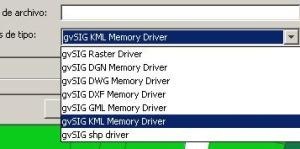 4. Open the kml
After opening the view, it loads the kml with the add layers button. Driver type is chosen as kml, and next search for the file (it may be kml or kmz).
If you look carefully, it is possible to call dgn, dwg, dxf, shp among others. The projection is set at the bottom.
5. Exportarlo a dxf
To export it touch the layer, then choose the "layer / export to" option and then choose dxf.
Fourth tip: Don't hate your favorite software.
Be Quiet, it is likely that these daily routines compel our major GIS programs to implement their functionality quickly.