보통 우리는 배경에 대 한 흰색 또는 검은 색을 사용, 변경은 시각화의 이유로 자주 활동입니다. 이 예제에서 우리는이 작업을 수행하는 방법에 대해 알아 보겠습니다 의 AutoCAD와 Microstation의와
의 AutoCAD와 2008 이전
그것은 이루어집니다 도구> 옵션, 경우에 당신은 Civil 3D를하거나 톱 메뉴를 표시하지 않는 응용 프로그램과 함께, 당신은 수동으로 명령을 입력 할 수 있습니다 옵션다음, 입력.
에서 디스플레이 탭 변경은 제 색상 버튼을 클릭합니다. 거기 당신은, 모델의 색상을 선택할 수 있습니다 레이아웃, 선택등
매우 편리 미리보기 디스플레이는 그것이 Microstation의과에 대한 필요성의 것을 가지고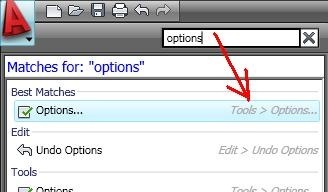 다른 색상 선택과 동일합니다.
의 AutoCAD와 함께 2009 년 이후
AutoCAD를 2009 년과 2010 년 리본, 명령을 찾을 수있는 기능이있을 수 있습니다. 그냥 단어를 쓰기 옵션 및 메뉴가 무엇인지 우리를 알려줍니다, 다른 것들이 같다면.
Microstation의과
Microstation의 경우, 그것은 이루어집니다 :
작업 영역
There we choose from the left panel the option View Options
If it is not selected Black Background -> White, we have a black background, which is thedefault. Otherwise it will be white
You can also choose a non-white color, indicating it as it's shown on the bottom (see the arrow); both, for the color model of working as for the Layout (Sheet model).
These characteristics apply in general to the workspace, but in the Vista properties it can be choose whether we want to retain the default (black) or to apply the defined color. This latter applies to the working file, if you want to generalize, do it in the file seed (seed file).
To do this you click on the corner of the View, 선택속성보기하고 선택을 배경.
이 예제는 XM에 이전 버전이있는 사람을 위해, 마이크로 V8i는 함께 이루어집니다, 그것은 단지 선택 상자를 보게 될 것이다 (체크리스트)