TRANSLATION NOTES: Please read some comments at the end of this post.
The journey of this summer vacation has been more than a simple stress relief. Not only for me, has it also been for the rest of my family who accompanied me. Sometimes the analogy that the wires are connected seems to be so real, missing time for reflection. The summer heat and the desire to go swimming in the river cut the melancholy of the "was right here" for a while, but after almost five hours of travel, lying in a hammock, I could find again the immediate stream, in the exact pixel almost with the precision that only Plex.Earth can do. This was the place where I was born, and spent my childhood's early years. Half of what I knew and thought was magical; so much that I thought at times that never happened:
• The little mornings climbing up to the little cattle ranch (*) where my dad milked the cows; we drank milk tray foam using a guayabo leaf. In the background, the mistiricuco(**) still sang a plaintive moan because of the hen not eaten at night and the lost love affairs in the early morning.
• Then I ate some corn tortillas, freshly made, hot, split on a plate with fresh milk. A bit of salt gave them an amazing taste… although when I tell this, my kids turned to see me with droopy eyes.
• My father's young helpers came to lunch at noon; one of them was don Jerónimo (Chombo), the most boisterous. They killed a hen cutting its neck back in the sink and never missing the "more tortillas for Doña Blanca". It was just in that corridor where it was put a long table for them; before it had an absurd green railing that took away the sharp whitewashed with lime walls taste.
• And in the afternoon aunt Leda's cousins came to play; Materinerero (***) in a back and forth, then they sang one song that quaked me with fear "Doñana is not here, she's in her garden…" this happened when the girls' cousins came. And when Wil came we played spin at the courtyard, or cashews in a hole under the tamarindo tree… until we did not see because of the darkness and when the guacos began to sing there by the shut door.
I went to school in the morning, we left so early and with almost an hour's walk uphill to a village called La Laguna we arrived. Half day of classes with blackboard painted on the wall and a draft handmade pillow. Return was faster because we came downhill, screaming and running with friends that had been gradually staying in their homes since Don Toño Blanco's until crossing the creek where Wil was leaving. And so we got home. A couple of tortillas with beans and butter were our lunch, the rest of the afternoon was bringing the cows which were grazing in the Plan of Castaño, bathed us totally naked in the Cachirula pool for a while and then climbing the hill with the cows to the Sabaneta.
This fact of the school was a consequence of grandfather's death, who settled in this place a free school that worked in the morning and where the children of the nearby towns made their sixth grade for free. In the afternoon worked his clinic where people went to receive services from the only existing doctor for hundreds of miles around.
The grandfather connection was rather strange. Most of my cousins studied with him and it was told by the "El Cuco" not published tale that, some patients because of the distance died along the way or had already healed from their sickness when they arrived, but don't return only by the curiosity to know a real doctor. Back they had the surprise to know that medical consultation was for free and the reprimand for not having sent the children to school this year.
Then the civil war came and abruptly broke the thread of what I understood with my short eight years. It all started when the first group of subversives passed, with green backpacks to their loins and olive green caps; two of them with beards that betrayed them as Cubans, Nicaraguans or fans of that sort, but I think it was just a bunch of idiots. They took the rifle 22 from my dad, the bone-handled deer dagger and let that feeling of being on a list with which we don't agree with.
From there it sounded gunfire and bombs everywhere, at all hours of the day but got worse in the afternoon when the aircraft bombed the villages of El Tule, The Roots and The Burillo caves. Suddenly, each day, from all villages of the Araute river banks refugees came to the house; their husbands and children had gone to the mountains with the Farabundo Marti guerrilla. Mothers seemed deranged, with matted hair; some with just one sandal, watching through the windows at what time the guard would arrive to kill them.
We lived a stress fighting our toys with flocks of children arriving every day, that reek strange, spoke a little and crying almost throughout. Then they left, leaving a dog and suitcases in the barn with the promise of returning.
At the end there were so many dogs that my mother managed to poison them with the excuse to avoid a rabies epidemic. But the truth was that there was no food even for us, with so many mouths to feed, with so many war tax to pay; my mother ended up doing almost a hundred weight daily tortillas to feed the camp that was above the house, forward the Nance tree.
It was interesting to walk this same path, with 40 years in my gray hairs. After having read the Seven Sparrows book and realized that I was about to be part of El Rosario massacre as we fled to Honduras, many things make sense. History is connected with other optics. People understood such absurd things such as war might not happen but that was also inevitable. At the end between lines identified it was a lawsuit between poor, while leaders now outside the country are millionaires and owners of bank emporiums; while in the mountains, it is impossible to return because the roads were lost.
In my perspective to hear the point of view of the ones who stayed there, I have spoken with many people who now already not fear telling the truth. I have been able to go to the Museum of the Revolution, where hearing a guide's voice who was a guerrilla since the age of 12… story has another meaning, the own suffering.
It's not worth my selfish perception of why they took the yard where I played marbles, or why they took my dad's cows without permission.
When listening someone's version who never had anything, except the dream fight. Convinced that armed struggle did not leave him much, except the pride of having fought for an ideal. You realize that human beings are intense in everything we do. For some heroes, for other damned… so divine as humans we are.
The feelings are crossed … I'm sorry because of my 7 cousins lost, the 4 uncles, and 6 other distant relatives.
He mourns the loss of his 3 only brothers, his father, and more than 11 family members. Regrets that his sister has been paralyzed from a bullet in the skull, that his uncle is handicapped by stepping on a mine, that four of them could not even been buried because their grave are not listed, that his uncle's two children have been strung on the air with a dagger bayonet and his biggest bonuses of just 10 and 12 years have been violated before murdering. Then he told us one by one how were killed his friends, fellow soldiers … at Volcancillo's side in the Perquín hill, in the Ojos de Agua fall, on the Azacualpa slope, in Chorreritas, in El Rosario church, in Pando hill, in Meanguera crossing, in The Guacamaya, there in San Vicente, in Usulutan ..
This is how exciting is our life. When years pass, our memory does an automatic defragmentation and sends to the background bad flavors. Then bring afloat the best moments and string them on a basting that come out to remind us that it just only happened. Optimized on standards return whenever we lay in a hammock, bringing to mind scenes that seem to be part of a story, and blends them with the joys that now produce us people who are nearby.
With the difference that, 32 years later, there is no difference.
• I was the privileged whom he hated. The time made me leave progressive roots until I changed the engineering for a social career.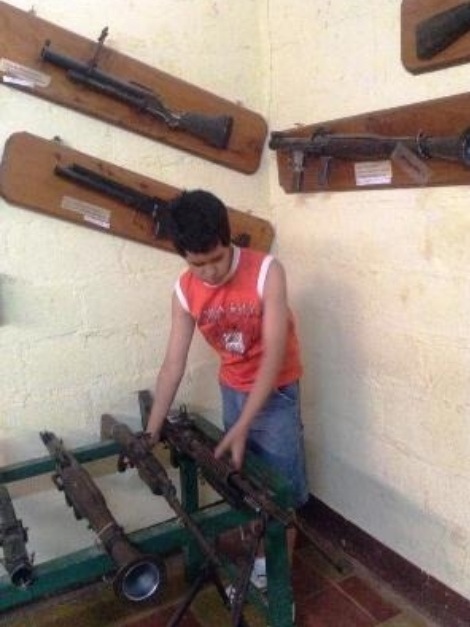 • He, a renegade, willing to die for his cause. Now he's aware that, is a survivor for more than a miracle.
This is how healthy it is to connect wires with the past, forget grudges and close cycles. Making accounts, there are more lessons behind this place…
TRANSLATION NOTES:
Preview:
• This post mentions many places in El Salvador, the author's original country. If you want you can locate many of these places here.
• There's a custom in many Latin American places to refer to beloved things or person's attributes using diminutives. This is the case of "potrero" (cattle ranch) which turns into potrerito". The same treatment is applied in "Little Notes" post.
(*) potrerito: a cattle ranch.
(**) mistiruco: this is a bird, a special kind of barn owl
(***) materinerero: it's a special play of the round