One of the main problems of adapting to an iPad is the keyboard. There will be those who become accustomed, but after a month I came concluding that these reasons prevent me:
On one side my fingers are too fat and operate the keyboard results complicated. 25 years later I value my typing course as the best gift my sister could make to me, although had to be with a noisy Olivetti, but on a keyboard that is there and can not feel is somewhat complicated.
Neither seems very good acquired position as it causes some pain in wrists. I download an application that makes the keyboard to a custom size; it splits in two parts, even rotating at will. But neither, it is interesting but immature.
Apple sells an additional wireless keyboard, but goes on $ 100 plus base which costs about $ 90. I think they do this so that people don't buy it and get used to using nails. Apart from the additional volume to be loaded that does not make sense, for this it's better a Netbook.
So, without many options and so desperate to have half abandoned the blog, I found a wonder tool called ZAGG Mate. Its advertising is everywhere you go surfing with this tablet through AdSense ads. Let's see what this toy makes:
1. Serves as a cover. While being a keyboard, works as a tablet lid. Good protection, ultra lightweight with a sleek aluminum design and black rubber on inner edges for a perfect fit.
2. It takes no cables. It has a cable but is for charging via USB to any computer or charger that supports this slot. It works via Bluetooth, only a few steps must be followed:
You have to click the Bluetooth button with the ballpoint tip of a pen, then in the iPad go to:
Settings / general / Bluetooth and there select the device. Then enter the mentioned code and it's ready.
The keys seem with acceptable size to me, I think like the Acer Aspire One's. I still have to find some tricks like changing the language to find the damn code brackets, Ctrl + C and Ctrl + V with no idea how to run them. I have to read…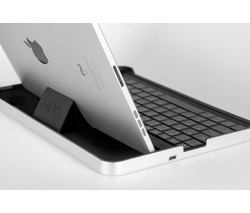 In my opinion, it's a great tool. Zagg sent anywhere in the world, in this case for lack of urgency I have selected by post, which goes under $ 7 and three weeks later has come in a case I do not want to throw it away.
An interesting example how to take advantage of Apple computers disadvantages. ZAGG sells other gadgets, among them covers of good designs, including one that makes it seem like a simple notebook of tasks to walk down the street without drawing attention.
Now I need a good WYSIWYG editor for WordPress, because until now BlogPress is not as good as some would desire. It works only in recent versions, leaving out of combat MU, which is the platform on which is mounted Cartesianos.com.
It is not bad return to html tags, but at this stage it is unacceptable, the best thing that could happen is that Pages have a content management system capabilities.