TRANSLATION NOTES: Please read some comments at the end of this post.
I lived in a different time, when I was a child, my hobbies after 5 pm were to play a football game with the neighbors, until the ball went to the fence of the grumbling neighboring or simply until we can not see by the darkness, then came electricity, enough reason to go to watch TV at the only neighbor's home who had that privilege.
We saw series that only now just passes on Boomerang, Tom and Jerry, Heidi, The Smurfs; other that I occasionally see in TCM as The A Team, the Incredible Hulk… Fu*, it's better not to follow because somebody can take me as a mestizo (*) or I can scratch half a tear to some.
Now my kids live in a new era, they can not go outside because it is not safe, so that should be visited by their friends. They prefer a painful punishment than a week without watching TV and while absorbed in their world, I in mine, we must find a consensus to share hobbies and occasionally turn the wireless, turn off the mobile, lay on the grass and let them throw over you.
One of 10 years old, overly creative, artist, in his fourth grade, gotten into the world of building comic with their own characters that one day hopes to market in order to became famous… simple and complex … as it is php.
The message says:  The life can be simply, Spiderman told me that.
The baby of 6 years, spends much time in the mirror, a habit that already worries me. Tender, expressive, moving her teeth but always … technological although she prefers to do with my Motorola, She has spent memory taking videos that someday I will enjoy viewing.
The message says:  The life haves not sense, if it runs my oat meal.
And although I insist on retaining some habits that seem obsolete, like going to the park, flee from the Mall as possible; take a walk inland, it has not been possible to detach them from the current trend, in which half of their words sound like Silicon. Partly for myself engrossed in it, partly because it comes in their veins, here are some words from them.
Phrases
Daddy, why do you always go with that Asus in your hand…? By the way, can you borrow it to me now that there's no wireless?
Yep, I know, you're going to check your email
May we chat? Me from the living
Can I put in the wish list a Wii?
How much do we earn today?
Let's search my school in Google Earth…  now myself alone
Can you upload this Megaman's draw in your blog?
Send it to me by the Bluetooth
Do you have enough for buying me this with Paypal?
May you add me to your Hi5!?
When will you help me to pass to WordPress?
I believe wireless is down, did you pay it?
The Best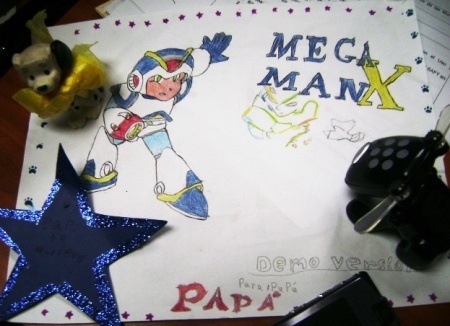 This is a collection of memories I have in my office, my son gave me an I-dog, she a rubber Dalmatian and made a bow tie from a plastic bag. He made me a picture of Megaman X with the legend "Demo Version for Dad," she a glitter blue star that says "Daddy I love you"
Amid a mix of technologies with old games, we have found a good space that I believe they will never forget … and neither me; especially because of my responsibility to travel a lot it becomes complicated. They have learned about rules, one day he will likely be a great publicist, she an architect… there are phrases from this time I will also like to remember:
Today isn't Internet Day
Can you leave me just 5 more minutes and put then on sale to me tomorrow?
My mommy won't let me
I love you Daddy!
TRANSLATION NOTES:

(*) guachupín: a 'mestizo' is a person of mixed blood; specifically: a person of mixed European and American Indian ancestry. In this case, 'guachupin' is a disparaging way to allude to a mixed person. It's used in Spain.