Vor einiger Zeit hatte ich auf der Google Earth gesehen offizielle Blog, Aber danach Opaco hat uns daran erinnert, nahm ich ein paar Minuten zu sehen, es funktioniert. Ich meine, die alten Karten aus der Sammlung Rumsey auf Google Maps oder Google Earth gemacht.
Dieses Beispiel zeigt eine Karte von der Iberischen Halbinsel im Jahre 1710, aufgeteilt nach Spanien Castilla und Aragon. Portugal wird ebenfalls angezeigt.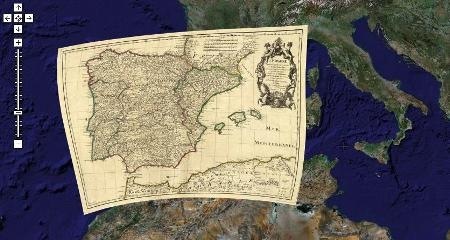 Die David Rumsey Sammlung begann vor 20 Jahren, mit Schwerpunkt auf die Abbildung der Americas der 18. und 19. Jahrhundert (ich werde diese Nomenklatur zu verwenden, da römischen Ziffern mich bekommen graue Haare, wenn ich lese), aber es enthält auch Weltkarten von Asien, Afrika, Europa und Ozeanien . Die Auflistung, die Menge in der Nähe von 150.000 Karten Bisher umfasst atlas, Flächen, Schule Karten, Bücher, Grafiken und eine Vielzahl von Karten einschließlich Pocket-, Wand-, Kinder-und andere Karten manuell erarbeitet.
Das Abtasten begann etwa 1997. So war es möglich, diese Art von wertvollen Dokumenten mit hoher Auflösung haben, denn wenn Sie sich erinnern, waren Karten Inhalt sehr detailliert, jetzt ist alles in der Datenbank und für verschiedene Zwecke wie Ergebnisse werden grafisch dargestellt.
Natürlich war eines der Ziele immer auf dem Web und was besser, als sie in der ganzen Welt beliebt Mapping-Dienste wie Google Maps und Google Earth, Spielzeug, das die Art, wie wir die Welt sehen, verändert sehen zu dienen.
In dieser Karte sehen Sie die unterschiedliche Rate von vorhandenen Karten, und im Fall von Weltkarten gibt es in der Mitte des Atlantischen Ozeans. Indem Sie die Maus in der Nähe zeigt es das Jahr des Produkts.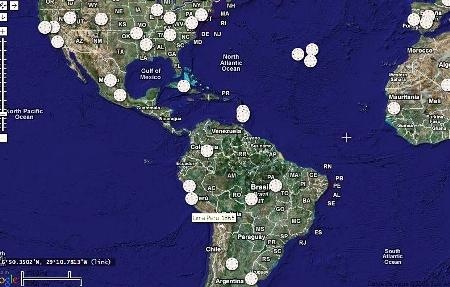 Sobald das Symbol geklickt, können Sie die Übersichtskarte, einen Link zu allen betroffenen Informationen sowohl über die ursprünglichen und die digitalisierte Karte und einen weiteren Link zu Einsatz, Ansicht, mit denen sie einige Stöcke, wo Sie die Transparenz steuern kann aktiviert sehen. Schauen östlichen Brasilien, 1842.
Um sie in Google Earth anzuzeigen müssen nur downloaden diese kmz das bindet und erlaubt das Betrachten.
Sehen Sie diese Karte von Kolumbien im Jahre 1840, während immer noch darunter Ecuador, Venezuela und Teile von Peru.
Und was soll man von diesem von East Argentinien 1867 sagen, zeigt diese Karte die indianischen Stämme in der Mitte des 19. Jahrhunderts
Es ist wirklich ein wertvoller Beitrag zur Verbreitung dieser Mapping-Sammlung. Hier können Sie diegesamte Kollektion
Und dies ist eine Liste von einigen der bedeutendsten Karten
Some time ago I had seen on the Google Earth's official blog, but after that Opaco has reminded us, I took a few minutes to see it working. I mean the old maps from the Rumsey collection made on Google Maps or Google Earth.
This example shows a map of the Iberian Peninsula in 1710, Spain divided by Castilla and Aragon. Portugal also appears.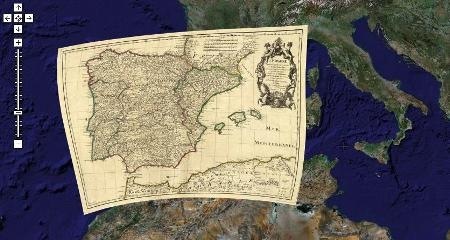 The David Rumsey collection began 20 years ago, with primary focus on mapping the Americas of the 18th and 19th centuries (I will use these nomenclature because Roman numerals get me gray hair when I read) but it also contains world maps of Asia, Africa, Europe and Oceania. The collection to date amount near to 150,000 maps includes atlas, areas, school maps, books, charts and a variety of maps including Pocket, wall, children's maps and other manually elaborated.
The scanning began about 1997. Thus it was possible to have this kind of valuable documents with high resolution, because if you remember, maps were content in great detail, now everything is in the database and for different purposes such results are represented graphically.
Of course, one of the goals was always to serve on the web and what better than to see them in the world popular mapping services, such as Google Maps and Google Earth, toys that changed the way we see the world.
In this map you can see the different rate of existing maps, and in the case of world maps there are in the middle of the Atlantic Ocean. By bringing the mouse close it shows the year of the product.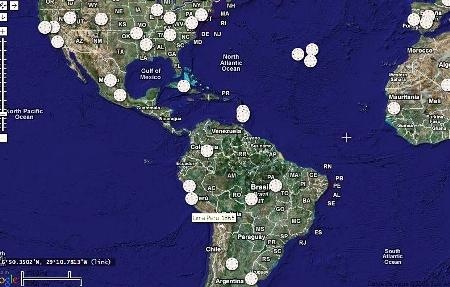 Once clicked the icon, you can see the overview map, a link to see all the concerned information on both the original and the digitized map and another link to view deployed, with which it activates some sticks where you can control the transparency. Look eastern Brazil, 1842.
To view them in Google Earth just have to download this kmz that binds and allows viewing.
See this map of Colombia in 1840 while still including Ecuador, Venezuela and parts of Peru.
And what to say from this of East Argentina, 1867, this map shows the native American tribes in the middle of the 19th century
It really is a valuable contribution to the dissemination of that mapping collection. Here you can view the entire collection
And this is a list of some of the most significant maps
Algum tempo atrás eu tinha visto no Google Earth de blog oficial, Mas depois disso Opaco lembrou-nos, eu levei alguns minutos para vê-lo trabalhando. Quero dizer, os mapas antigos da coleção Rumsey feito no Google Maps ou Google Earth.
Este exemplo mostra um mapa da Península Ibérica, em 1710, a Espanha dividida por Castela e Aragão. Portugal também aparece.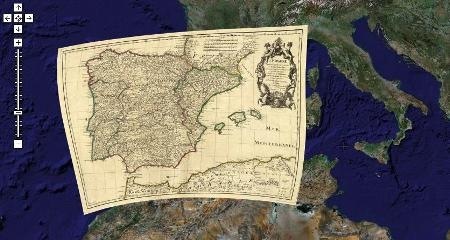 O David Rumsey coleção começou há 20 anos, com foco principal no mapeamento das Américas dos séculos 18 e 19 (vou usar estes nomenclatura porque algarismos romanos me os cabelos grisalhos quando li), mas também contém mapas do mundo da Ásia, África, Europa e Oceania . A coleção até hoje montante perto de 150 mil mapas inclui atlas, áreas, mapas escolares, livros, cartas e uma variedade de mapas, incluindo bolso, de parede, mapas das crianças e outros elaborados manualmente.
A digitalização começou por volta de 1997. Assim, foi possível ter esse tipo de valiosos documentos com alta resolução, porque se você se lembra, os mapas estavam contentes em grande detalhe, agora tudo é na base de dados e para diferentes fins tais resultados são representados graficamente.
É claro que um dos objetivos era sempre a servir na web e que melhor do que vê-los nos serviços de mapas populares do mundo, como Google Maps e Google Earth, os brinquedos que mudaram a forma como vemos o mundo.
Neste mapa você pode ver o diferente ritmo de mapas existentes, e no caso de mapas do mundo existem no meio do Oceano Atlântico. Ao trazer o mouse perto mostra o ano do produto.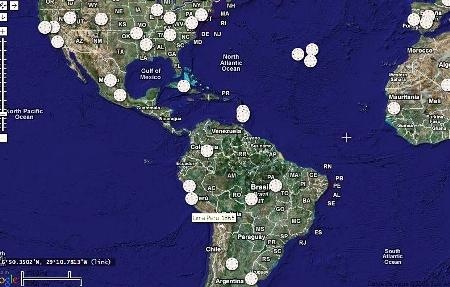 Uma vez clicado o ícone, você pode ver o mapa geral, um link para ver todas as informações em questão, tanto o original eo mapa digitalizado e outro link para ver implantado, com o qual ele ativa algumas varas onde você pode controlar a transparência. Olhe leste do Brasil, 1842.
Para visualizá-los no Google Earth só tem que baixar este kmz que se liga e permite a visualização.
Veja este mapa da Colômbia em 1840, enquanto ainda incluindo Equador, Venezuela e partes do Peru.
E o que dizer dessa of East Argentina, 1867, este mapa mostra as tribos nativas americanas em meados do século 19
É realmente uma valiosa contribuição para a disseminação de que a coleta de mapeamento. Aqui você pode ver o coleção inteira
E esta é uma lista de algumas das mais significativas mapas
Hace algún tiempo que había visto en el Google Earth de blog oficial, Pero después de eso Opaco nos ha recordado, me tomé unos minutos para ver su funcionamiento. Me refiero a los viejos mapas de la colección Rumsey hecho en Google Maps o Google Earth.
En este ejemplo se muestra un mapa de la Península Ibérica en 1710, España dividida por Castilla y Aragón. Portugal también aparece.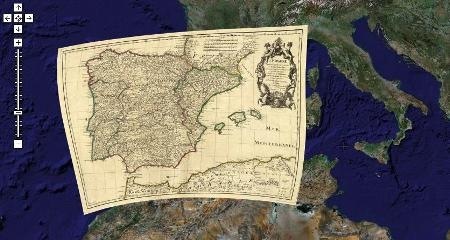 La David Rumsey colección se inició hace 20 años, con el foco principal en el mapeo de las Américas de los siglos 18 y 19 (Voy a utilizar estos nomenclatura por números romanos me ponen canas cuando leo), pero también contiene mapas del mundo de Asia, África, Europa y Oceanía . La colección hasta la fecha ascienden a cerca de 150.000 mapas incluye atlas, zonas, mapas escolares, libros, cuadros y una variedad de mapas, incluyendo Pocket, pared, mapas de los niños y otros elaborados manualmente.
La exploración comenzó alrededor de 1997. Por lo tanto, era posible tener este tipo de documentos valiosos con alta resolución, ya que si usted recuerda, los mapas se contentaban con gran detalle, ahora todo está en la base de datos y para diferentes propósitos tales resultados se representan gráficamente.
Por supuesto, uno de los objetivos fue siempre para servir en la web y qué mejor que verlos en los servicios de mapas populares del mundo, como Google Maps y Google Earth, los juguetes que han cambiado la forma de ver el mundo.
En este mapa se pueden ver las distintas tasa de mapas existentes, y en el caso de los mapas del mundo no está en el medio del Océano Atlántico. Por lo que el cierre del ratón que muestra el año del producto.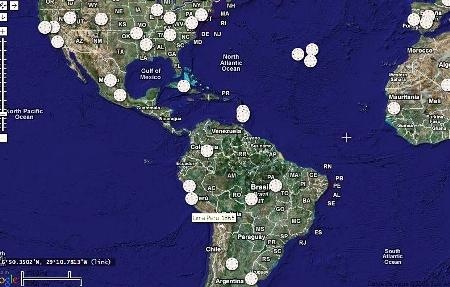 Una vez que hace clic en el icono, se puede ver el mapa general, un enlace para ver toda la información en cuestión en tanto el original como el mapa digitalizado y otro enlace para ver desplegado, con la que se activa unos palos donde se puede controlar la transparencia. Mira este de Brasil de 1842.
Para verlos en Google Earth sólo tiene que descargar este kmz que se une y permite su visualización.
Ver el mapa de Colombia en 1840, al tiempo que entre ellos Ecuador, Venezuela y partes de Perú.
Y qué decir de este de East Argentina de 1867, este mapa muestra las tribus americanas nativas en el medio del siglo 19
Realmente es una valiosa contribución a la difusión de esa colección de mapas. Aquí puede ver la colección entera
Y esta es una lista de algunos de los mapas más significativos
Il ya quelques temps j'avais vu sur le Google Earth de blog officiel, Mais après ça Opaco nous l'a rappelé, j'ai pris quelques minutes pour le voir travailler. Je veux dire les anciennes cartes de la collection Rumsey faite sur Google Maps ou Google Earth.
Cet exemple montre une carte de la péninsule ibérique en 1710, l'Espagne divisée par la Castille et l'Aragon. Portugal apparaît également.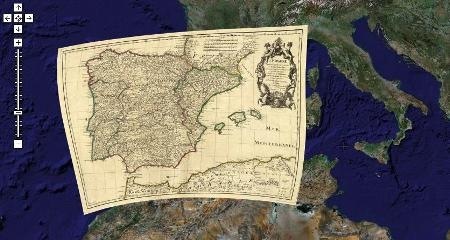 Le David Rumsey collection a commencé il ya 20 ans, l'accent étant mis sur la cartographie des Amériques des 18e et 19e siècles (je vais utiliser ces nomenclature parce chiffres romains vous méprenez cheveux gris quand je lis) mais il contient également des cartes du monde d'Asie, d'Afrique, d'Europe et d'Océanie . La collection montant à ce jour près de 150.000 cartes comprend atlas, régions, cartes scolaires, des livres, des tableaux et une variété de cartes, y compris Pocket, mur, les cartes de l'enfant et d'autres élaborés manuellement.
Le balayage a commencé vers 1997. Ainsi, il était possible d'avoir ce genre de documents précieux avec une résolution élevée, parce que si vous vous souvenez, les cartes étaient contenus dans les moindres détails, maintenant, tout est dans la base de données et à des fins différentes de tels résultats sont représentés graphiquement.
Bien sûr, l'un des objectifs était toujours à servir sur le web et quoi de mieux que de les voir dans les services de cartographie populaires du monde, tels que Google Maps et Google Earth, des jouets qui ont changé la façon dont nous voyons le monde.
Dans cette carte, vous pouvez voir les différents taux des cartes existantes, et dans le cas de cartes du monde il ya au milieu de l'océan Atlantique. En amenant la fermeture de la souris, il indique l'année du produit.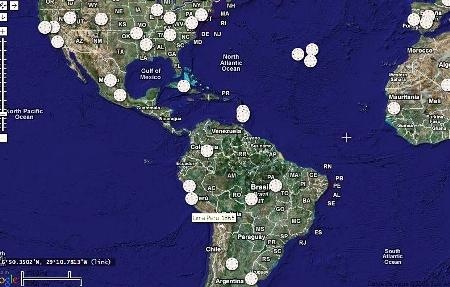 Une fois cliqué sur l'icône, vous pouvez voir la vue d'ensemble, un lien pour voir toutes les informations concernées sur l'original et la carte numérisée et un autre lien pour voir déployé, avec qui il active des bâtons où vous pouvez contrôler la transparence. Regardez-est du Brésil, 1842.
Pour les visualiser dans Google Earth avez juste à télécharger cette kmz qui se lie et permet la visualisation.
Voir cette carte de la Colombie en 1840, tout en incluant l'Équateur, le Venezuela et régions du Pérou.
Et que dire de cette of East Argentine de 1867, cette carte montre les tribus amérindiennes dans le milieu du 19ème siècle
C'est vraiment une précieuse contribution à la diffusion de cette collection de cartographie. Ici, vous pouvez voir le ensemble de la collection
Et c'est une liste de certaines des cartes les plus importantes
Cu ceva timp în urmă am văzut pe Google Earth blog-ul oficial, Dar după ce că Opaco ne-a amintit, am luat câteva minute să-l vadă de lucru. Adică hărțile vechi din colecția Rumsey făcut pe Google Maps sau Google Earth.
Acest exemplu arată o hartă a Peninsulei Iberice, în 1710, Spania, împărțit de Castilla și Aragon. Apare, de asemenea, Portugalia.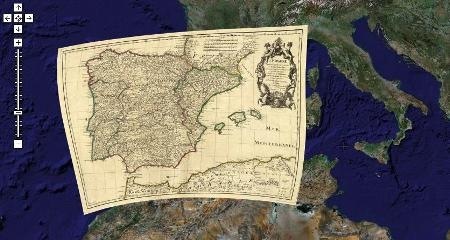 David Rumsey de colectare a inceput acum 20 de ani, cu accent principal pe cartografierea America din secolele 18 si 19 (voi folosi aceste Nomenclatura deoarece cifre romane mă părul gri când am citit), dar ea conține, de asemenea, hărți ale lumii din Asia, Africa, Europa și Oceania . Colecția de la data sumă aproape la 150.000 de harti include atlas, zone, hărți școlare, cărți, hărți și o varietate de hărți, inclusiv de buzunar, de perete, hărți pentru copii și alte elaborat manual.
Scanare a început de 1997. Astfel, a fost posibil să aibă acest tip de documente valoroase, cu rezoluție mare, pentru că, dacă vă aduceți aminte, hărți au fost conținut în detaliu, acum totul este în baza de date și pentru diferite scopuri, cum rezultatele sunt reprezentate grafic.
Desigur, unul dintre scopuri a fost întotdeauna de a servi pe web și ceea ce mai bine decât să le vezi în lume servicii de cartografiere populare, cum ar fi Google Maps și Google Earth, jucăriile care au schimbat modul în care vedem lumea.
În această hartă, puteți vedea rata de diferite de harti existente, și în cazul de hărți ale lumii sunt în mijlocul Oceanului Atlantic. Prin aducerea aproape de mouse-ul se prezinta an a produsului.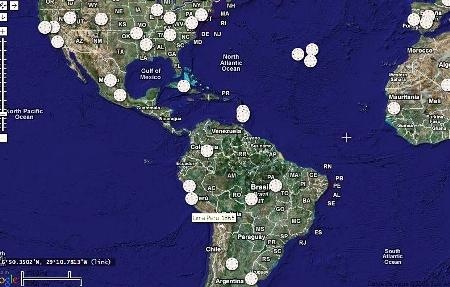 Odată clic pe pictograma, puteți vedea harta de ansamblu, un link pentru a vedea toate informațiile în cauză atât pe original cât și pe hartă digitală și un alt link pentru a vizualiza desfășurate, cu care se activează unele batoane unde puteți controla transparența. Uită-te de Est Brazilia, 1842.
Pentru a le vizualiza în Google Earth doar să descărcați acest kmz care se leaga si permite vizualizarea.
A se vedea această hartă de Columbia în 1840 în timp ce încă, inclusiv Ecuador, Venezuela și părți din Peru.
Și ce să spun de la această de Est Argentina, 1867, Aceasta harta arata triburile native americane la mijlocul secolului al 19-lea
Este într-adevăr este o contribuție valoroasă la diseminarea care colecție de cartografiere. Aici puteți vizualiza întreaga colecție
Și aceasta este o listă a unora dintre cele mai importante hărți
Qualche tempo fa avevo visto sul Google Earth di blog ufficiale, Ma dopo che Opaco ci ha ricordato, ho preso qualche minuto per vedere che funziona. Voglio dire le vecchie mappe della collezione Rumsey fatta su Google Maps o Google Earth.
Questo esempio mostra una mappa della penisola iberica nel 1710, in Spagna divisa per Castiglia e Aragona. Portogallo appare anche.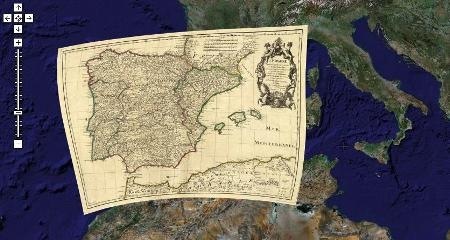 David Rumsey raccolta è iniziata 20 anni fa, con focus primario sulla mappatura delle Americhe dei secoli 18 ° e 19 ° (io uso questi nomenclatura perché i numeri romani mi diventano i capelli grigi quando l'ho letto), ma contiene anche mappe del mondo di Asia, Africa, Europa e Oceania . La collezione ad oggi importo vicino ai 150.000 mappe include atlante, aree, mappe di scuola, libri, carte e una varietà di mappe tra cui Pocket, muro, mappe dei bambini e di altri elaborati manualmente.
La scansione è iniziata circa 1997. Così era possibile avere questo tipo di documenti importanti con alta risoluzione, perché se vi ricordate, mappe erano contenuti in grande dettaglio, ora tutto è nel database e per scopi diversi sono rappresentati graficamente tali risultati.
Naturalmente, uno degli obiettivi era sempre a servire sul web e cosa di meglio che vedere loro nel mondo dei servizi di mappatura popolari, come Google Maps e Google Earth, i giocattoli che hanno cambiato il nostro modo di vedere il mondo.
In questa mappa si può vedere il diverso tasso di mappe esistenti, e nel caso di mappe del mondo ci sono nel mezzo dell'Oceano Atlantico. Portando il mouse vicino mostra l'anno del prodotto.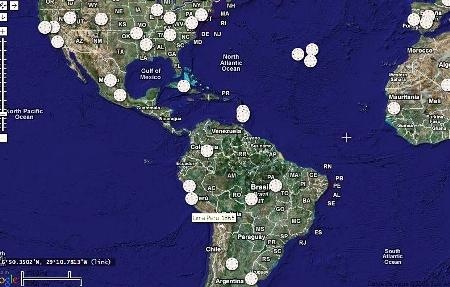 Una volta fatto clic sull'icona, è possibile vedere la mappa panoramica, un link per vedere tutte le informazioni in questione sia l'originale e la mappa digitalizzata e un altro link per visualizzare schierato, con la quale si attiva alcuni bastoni in cui è possibile controllare la trasparenza. Guarda Brasile orientale, 1842.
Per visualizzarli in Google Earth basta scaricare questo kmz che lega e permette la visualizzazione.
Guarda questa mappa della Colombia nel 1840, mentre ancora compreso l'Ecuador, Venezuela e parti del Perù.
E che dire di questa di East Argentina, 1867, questa mappa mostra le tribù native americane a metà del 19 ° secolo
E 'davvero un prezioso contributo per la diffusione di tale raccolta di mappatura. Qui è possibile visualizzare ilintera collezione
E questo è un elenco di alcune delle mappe più significativi
منذ بعض الوقت كنت قد رأيت على الأرض جوجل بلوق الرسمية، ولكن بعد أن Opaco وقد ذكرنا، وأخذت بضع دقائق لنرى ذلك العمل. أقصد الخرائط القديمة من مجموعة رمزي يتم على خرائط جوجل أو غوغل الأرض.
يوضح هذا المثال خارطة شبه الجزيرة الايبيرية عام 1710، أسبانيا مقسوما قشتالة وأراغون. يظهر البرتغال أيضا.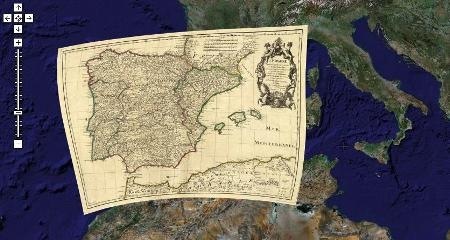 ديفيد رمزي بدأ جمع قبل 20 عاما، مع التركيز بشكل أساسي على رسم الخرائط للأمريكتين في القرنين 18th و 19th (سأستخدم هذه التسميات لأن الأرقام الرومانية يحصل لي الشيب عندما قرأت) لكنه يحتوي أيضا خرائط العالم من آسيا وأفريقيا وأوروبا وأوقيانوسيا . جمع حتى الآن مبلغ قريب من 150،000 خرائط يتضمن الأطلس، والمناطق، والخرائط المدرسية والكتب، والرسوم البيانية، ومجموعة متنوعة من الخرائط بما في ذلك الجيب، والجدار، وخرائط للأطفال وغيرها وضعت يدويا.
بدأ المسح حوالي 1997. وبالتالي كان من الممكن أن يكون هذا النوع من الوثائق القيمة مع ارتفاع القرار، لأنه إذا كنت تذكر، كانت خرائط المحتوى بقدر كبير من التفصيل، والآن كل شيء في قاعدة البيانات لأغراض مختلفة ومثل هذه النتائج يتم تمثيلها بيانيا.
بطبيعة الحال، واحدة من الأهداف وكان دائما لخدمة على شبكة الإنترنت وما هي أفضل من أن نراهم في خدمات رسم الخرائط شعبية في العالم، مثل خرائط Google و Google Earth ولعب الأطفال التي غيرت الطريقة التي نرى بها العالم.
في هذه الخريطة يمكنك ان ترى نسبة مختلفة من الخرائط الحالية، وذلك في حالة من خرائط العالم وهناك في وسط المحيط الأطلسي. من خلال جلب وثيقة الماوس فإنه يدل على السنة من المنتج.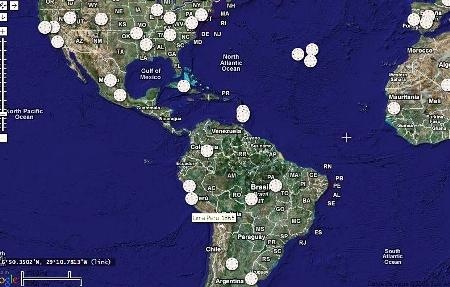 مرة واحدة النقر على أيقونة، يمكنك رؤية نظرة عامة، وصلة لرؤية جميع المعلومات المعنية على حد سواء الأصلي وخريطة رقمية ورابط آخر لمشاهدة المنتشرة، والتي كما أنه ينشط بعض العصي حيث يمكنك التحكم في الشفافية. ننظر شرق البرازيل، 1842.
لعرضها في برنامج Google Earth فقط لتحميل هذا KMZ التي تربط وتسمح بعرض.
انظر هذه الخريطة من كولومبيا في عام 1840 في حين لا يزال بما الاكوادور وفنزويلا وأجزاء من بيرو.
وماذا أقول عن هذا من الشرق الأرجنتين، عام 1867، تبين هذه الخريطة القبائل الأمريكية الأصلية في منتصف القرن 19
انها حقا هو مساهمة قيمة في نشر تلك المجموعة رسم الخرائط. هنا يمكنك عرض جمع كامل
وهذه هي قائمة لبعض من أهم الخرائط
いくつかの時間前、私はグーグルアースの上で見ていた 公式ブログしかし、その後 Opaco 私たちに思い出させている、私はそれが働いて見て、数分を要した。 私は、GoogleマップやGoogle Earthの上で作られたラムジーコレクションから古地図を意味する。
この例では、1710年におけるイベリア半島の地図を示し、スペインカスティーリャとアラゴンで割った値。 ポルトガルも表示されます。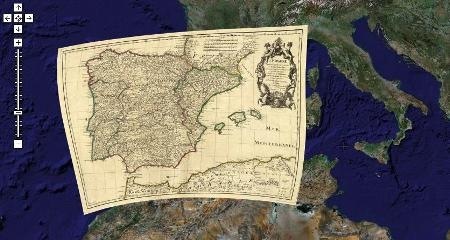 デビッド·ラムジー コレクションは、18世紀と19世紀のアメリカのマッピングの主な焦点で、20年前に始まった(私が読んだときにローマ数字が私白髪を得るので、私はこれらの用語を使用します)が、それはまた、アジア、アフリカ、ヨーロッパ、オセアニアの世界地図が含まれています。 15万マップに近い量をこれまでのコレクションには、アトラス、エリア、ポケットなど学校マップ、書籍、チャート、マップ、さまざまな壁、子供のマップや他の手動で詳述を含んでいる。
スキャンは、1997年約始まった。 あなたが覚えていれば、マップは非常に詳細に内容であったためこのように、それは、高解像度で貴重な文書のこの種を持つことが可能でしたが、今ではすべてがデータベース内にあり、異なる目的のためにこのような結果がグラフィカルに表現されます。
もちろん、目標の一つは、ウェブや、GoogleマップやGoogle Earthを、私たちが世界を見る方法を変更し玩具など世界の人気マッピングサービス、でそれらを見ることよりも、より良いものに奉仕する常にあった。
このマップでは、既存のマップの異なるレートを見たり、世界地図の場合、大西洋の真ん中にあります。 近くにマウスをもたらすことにより、製品の年を示しています。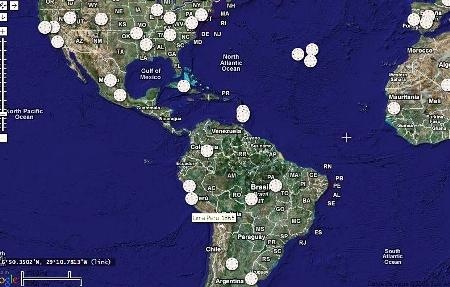 一度アイコンをクリックすると、概要マップ、すべての元の両方に関係する情報と、デジタル化されたマップと、それはあなたが透明度を制御することができますいくつかの棒を活性化すると、展開ビューに別のリンクを参照するためのリンクを見ることができます。 東のブラジル、1842年を見て。
グーグルアースでそれらを表示するには、単にダウンロードする必要があります このKMZ それが結合して表示することができます。
まだエクアドル、ベネズエラ、ペルーの一部を含めながら、1840年にコロンビアのこのマップを参照してください。
そして東アルゼンチン、1867年からこの言うこと、このマップは、19世紀の真ん中にネイティブアメリカンの部族を示しています
それは本当にそのマッピングコレクションの普及に貴重な貢献である。 ここでは、見ることができます コレクション全体
そして、これは最も重要なマップのいくつかのリストです
前段时间,我看到了谷歌地球 官方博客,但之后 Opaco 也提醒了我们,我花了几分钟,看到它的工作。 我的意思是在谷歌地图或谷歌地球林士收集的旧地图。
在1710年,这个例子显示了地图的伊比利亚半岛,西班牙卡斯蒂利亚和阿拉贡除以。 葡萄牙也会出现。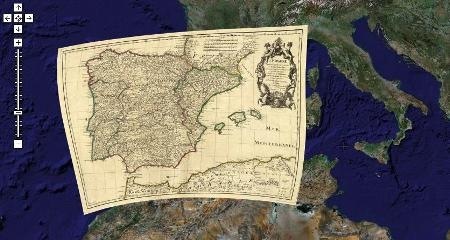 大卫林士 20年前开始收集,主要专注于测绘美洲18世纪和19世纪的(我将使用这些术语,因为罗马数字让我花白的头发,当我读到),但它也包含了亚洲,非洲,欧洲和大洋洲的世界地图。 迄今为止收集量接近150,000地图,包括地图集,地区,学校的地图,书籍,图表和各种地图,包括Pocket,墙,儿童的地图和其他手动阐述。
扫描始于1997年左右。 因此,它是不可能有这种高分辨率的有价值的文件,因为如果你还记得,地图内容很详细,现在一切都在数据库中,用于不同的目的,这样的结果用图形表示。
当然,目标之一是始终在网络上看到他们​​在世界上流行的映射服务,如谷歌地图和谷歌地球,改变看世界的方式,我们的玩具,有什么更好的服务。
在这张地图中,您可以看到不同幅度的现有地图,在世界地图的情况下,也有在大西洋中间。 通过使鼠标接近时,它显示了该产品的年。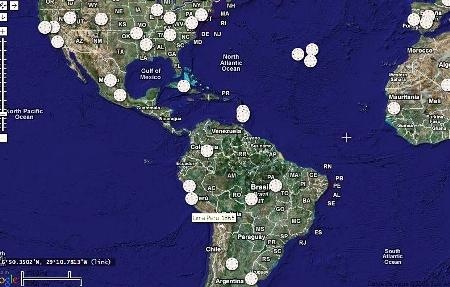 一旦点击该图标,就可以看到总览图,链接看到原来所有有关信息和数字地图和另一个链接以查看部署,与它激活一些棍棒,在那里你可以控制透明度。 看巴西东部,1842年。
谷歌地球中查看它们只需要下载 这个KMZ 结合,并允许观看。
哥伦比亚在1840年看到这个地图,同时还包括厄瓜多尔,委内瑞拉和秘鲁的部分地区。
说什么这东阿根廷,1867,这张地图显示了在19世纪中期的美国本土部落
这真的是传播,映射集合了宝贵的贡献。 您可以在这里查看 整个集合
这是一个列表中的一些最重要的地图
För en tid sedan hade jag sett på Google Earth officiella blogg, Men efter det Opaco har påmint oss om, tog jag ett par minuter för att se att det fungerar. Jag menar de gamla kartor från Rumsey insamlingen görs på Google Maps eller Google Earth.
Detta exempel visar en karta över den Iberiska halvön 1710, dividerat Spanien av Kastilien och Aragonien. Portugal tycks också.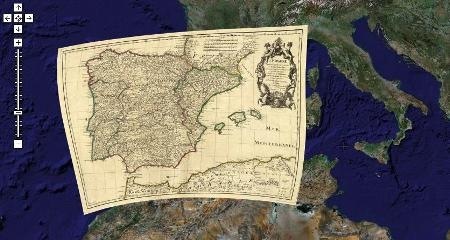 David Rumsey samlingen började för 20 år sedan, med primärt fokus på att kartlägga Amerika av de 18th och 19th århundradena (jag kommer att använda dessa nomenklatur eftersom romerska siffror får mig gråa hår när jag läste) men den innehåller också världskartor från Asien, Afrika, Europa och Oceanien . Samlingen uppgår hittills nära till 150.000 kartor ingår atlas, områden, kartor skola, böcker, diagram och en mängd kartor, inklusive Pocket, vägg, barns kartor och annan manuellt utarbetas.
Skanningen började omkring 1997. Därför var det möjligt att ha denna typ av värdefulla dokument med hög upplösning, för om du kommer ihåg, fanns kartor innehåll i detalj, nu är allt i databasen och för olika syften sådana resultat visas grafiskt.
Naturligtvis var ett av målen alltid att tjäna på nätet och vad bättre än att se dem i världen populära karttjänster som Google Maps och Google Earth, leksaker som förändrat hur vi ser på världen.
På denna karta kan du se de olika graderna av befintliga kartor, och i fallet med världskartor finns i mitten av Atlanten. Genom att föra musen nära den visar för den aktuella produkten.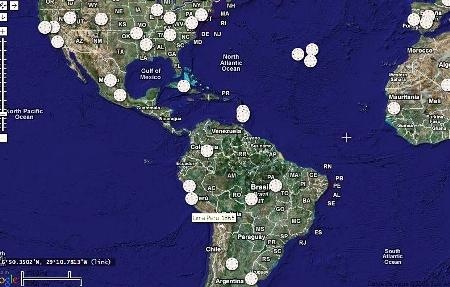 När klickat på ikonen, kan du se översiktskartan, en länk för att se alla berörda information om både den ursprungliga och den digitaliserade kartan och en länk för att visa distribueras, med vilken det aktiverar några pinnar där du kan styra insynen. Titta östra Brasilien, 1842.
Om du vill visa dem i Google Earth bara att hämta denna kmz som binder och tillåter visning.
Se denna karta över Colombia i 1840 samtidigt med Ecuador, Venezuela och delar av Peru.
Och vad man ska säga från detta av East Argentina, 1867, visar denna karta indianstammarna i mitten av 19-talet
Det är verkligen ett värdefullt bidrag till att sprida detta kartläggning samling. Här kan du visa Hela kollektionen
Och detta är en lista över några av de mest betydelsefulla kartor
Jakiś czas temu widziałem na Google Earth Oficjalny blog, A potem Opaco przypomniał nam, wziąłem kilka minut, aby zobaczyć jego pracy. Mam na myśli stare mapy z Rumsey kolekcji wykonane w Google Maps lub Google Earth.
Ten przykład pokazuje mapę Półwyspu Iberyjskiego w 1710, Hiszpania podzielona przez Kastylii i Aragonii. Portugalia również wydaje.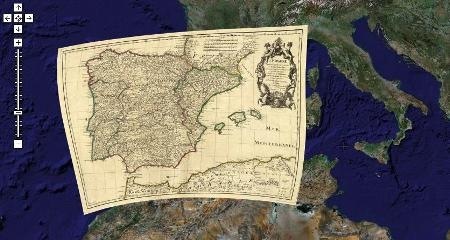 David Rumsey Kolekcja zaczęła 20 lat temu, ze szczególnym naciskiem na mapowanie Americas z 18 i 19 wieku (będę używał te nazewnictwo, ponieważ rzymskie daj mi siwych włosów, gdy przeczytałem), ale również mapy świata z Azji, Afryki, Europy i Oceanii . Kolekcja do tej pory kwoty blisko 150.000 map zawiera atlas, obszary, mapy szkolne, książki, wykresy i wiele map, w tym kieszonkowe, ścienne, mapy dla dzieci i inne ręcznie sporządzonych.
Skanowanie zaczął o 1997. Tak więc można było mieć tego rodzaju dokumentów wartościowych o wysokiej rozdzielczości, bo jeśli pamiętać, mapy były bardzo szczegółowo content, teraz wszystko jest w bazie danych i do różnych celów takie wyniki są przedstawiane w formie graficznej.
Oczywiście, jednym z celów było zawsze służyć w internecie, a co lepsze, niż widzieć je w świat usług popularnych map, takich jak Google Maps i Google Earth, zabawki, które zmieniły nasz sposób patrzenia na świat.
W tej mapie można zobaczyć inny wskaźnik istniejących map, w przypadku map świata jest w środku Oceanu Atlantyckiego. Wnosząc blisko myszy pokazuje lata produktu.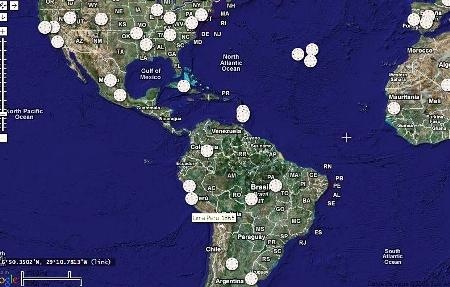 Po kliknięciu na ikonę, można wyświetlić mapy opis, linku, aby zobaczyć wszystkie dane informacje na temat zarówno oryginalne jak i zdigitalizowanych map i inny link, aby wyświetlić wdrożony, z którego uruchamia jakieś patyki, w którym można kontrolować przezroczystość. Spójrz wschodnią Brazylię, 1842.
Aby wyświetlić je w Google Earth wystarczy pobrać to kmz , który wiąże i umożliwia przeglądanie.
Zobacz mapę z Kolumbii w 1840 roku, a jednocześnie w tym Ekwador, Wenezuela i części Peru.
A co powiedzieć, z tego z wschodniej Argentynie, 1867, ta mapa pokazuje plemion indiańskich w połowie 19 wieku
To naprawdę cenny wkład w upowszechnianie tej kolekcji mapowania. Tutaj można zobaczyć Cała kolekcja
I jest to lista niektórych mapach najważniejszych
Một số thời gian trước đây tôi đã nhìn thấy trên trái đất của Google blog chính thức, Nhưng sau đóOpaco đã nhắc nhở chúng ta, tôi mất một vài phút để xem nó làm việc. Tôi có nghĩa là bản đồ cũ từ bộ sưu tập Rumsey được thực hiện trên Google Maps hoặc Google Earth.
Ví dụ này cho thấy một bản đồ của bán đảo Iberia vào năm 1710, Tây Ban Nha chia Castilla và Aragon. Bồ Đào Nha cũng sẽ xuất hiện.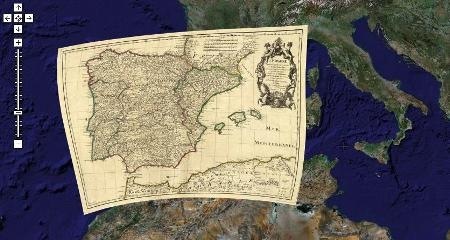 David Rumsey bộ sưu tập đã bắt đầu cách đây 20 năm, tập trung chủ yếu trên bản đồ châu Mỹ của thế kỷ 18 và 19 (tôi sẽ sử dụng các thuật ngữ vì chữ số La Mã được tôi tóc màu xám khi tôi đọc) nhưng nó cũng chứa các bản đồ thế giới của Châu Á, Châu Phi, Châu Âu và Châu Đại Dương . Bộ sưu tập cho đến nay số lượng gần 150.000 bản đồ bao gồm bản đồ, khu vực, bản đồ học, sách, bảng xếp hạng và một loạt các bản đồ bao gồm túi, tường, bản đồ của trẻ em và các tay xây dựng.
Các chức năng quét bắt đầu khoảng năm 1997. Vì vậy, nó đã có thể có loại giấy tờ có giá với độ phân giải cao, bởi vì nếu bạn nhớ, bản đồ là nội dung rất chi tiết, bây giờ mọi thứ trong cơ sở dữ liệu và cho các mục đích khác nhau kết quả như vậy được đại diện đồ họa.
Tất nhiên, một trong những mục tiêu là luôn luôn phục vụ trên các trang web và những gì tốt hơn để nhìn thấy chúng trong các dịch vụ bản đồ phổ biến trên thế giới, chẳng hạn như Google Maps và Google Earth, đồ chơi làm thay đổi cách chúng ta nhìn thế giới.
Trong bản đồ này, bạn có thể thấy tỷ lệ khác nhau của bản đồ hiện có, và trong trường hợp của bản đồ thế giới có đang ở giữa Đại Tây Dương. Bằng cách đưa chuột gần nó cho thấy năm của sản phẩm.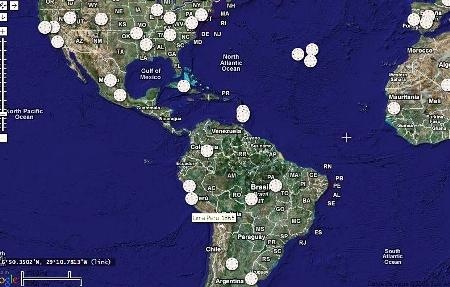 Sau khi nhấp vào biểu tượng, bạn có thể xem bản đồ tổng quan, một liên kết để xem tất cả các thông tin có liên quan trên cả hai bản gốc và các bản đồ kỹ thuật số và một liên kết để xem sự triển khai, mà nó kích hoạt một số gậy, nơi bạn có thể kiểm soát sự minh bạch. Nhìn phía đông Brazil năm 1842.
Để xem chúng trong Google Earth chỉ cần tải về kmz này gắn kết và cho phép xem.
Xem bản đồ này của Colombia vào năm 1840 trong khi vẫn còn bao gồm Ecuador, Venezuela và các bộ phận của Peru.
Và những gì để nói từ này của Đông Argentina, năm 1867, bản đồ này cho thấy các bộ lạc người Mỹ bản địa ở giữa thế kỷ 19
Nó thực sự là một đóng góp có giá trị cho việc phổ biến của bộ sưu tập bản đồ. Ở đây bạn có thể xemtoàn bộ bộ sưu tập
Và đây là một danh sách của một số các bản đồ quan trọng nhất
Πριν από λίγο καιρό είχα δει στο Google Γης επίσημο blog, Αλλά μετά από αυτό Opaco μας υπενθύμισε, πήρα λίγα λεπτά για να δείτε την εργασία. Εννοώ τα παλιά χάρτες από το Rumsey συλλογή που πραγματοποιούνται στο Google Maps ή Google Earth.
Αυτό το παράδειγμα δείχνει ένα χάρτη της Ιβηρικής Χερσονήσου το 1710, η Ισπανία διαιρείται με Castilla και Αραγονία. Πορτογαλία φαίνεται επίσης.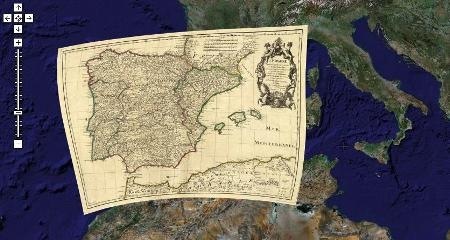 David Rumsey συλλογή ξεκίνησε πριν από 20 χρόνια, με επίκεντρο κυρίως την χαρτογράφηση της Αμερικής του 18ου και 19ου αιώνα (Θα χρησιμοποιήσω αυτά τα ονοματολογία, καθώς ρωμαϊκούς αριθμούς με πάρει γκρίζα μαλλιά, όταν διάβασα), αλλά περιέχει επίσης χάρτες κόσμο της Ασία, την Αφρική, την Ευρώπη και την Ωκεανία . Η συλλογή μέχρι σήμερα ανέρχονται κοντά στα 150.000 χαρτών περιλαμβάνει άτλαντα, περιοχές, σχολικούς χάρτες, βιβλία, χάρτες και μια ποικιλία από χάρτες όπως τσέπης, τοίχου, χάρτες για παιδιά και άλλες χέρι εκπονηθεί.
Η σάρωση άρχισε περίπου το 1997. Έτσι, δεν ήταν δυνατό να έχουν αυτό το είδος των πολύτιμων εγγράφων με υψηλή ανάλυση, γιατί αν θυμάστε, χάρτες ήταν ικανοποιημένοι με μεγάλη λεπτομέρεια, τώρα όλα είναι στη βάση δεδομένων και για διαφορετικούς σκοπούς, οι εν λόγω αποτελέσματα γραφικής παράστασης.
Φυσικά, ένας από τους στόχους ήταν πάντα να υπηρετήσει στο διαδίκτυο και τι καλύτερο από το να τα δεις στον κόσμο δημοφιλείς υπηρεσίες χαρτογράφησης, όπως το Google Maps και το Google Earth, τα παιχνίδια που άλλαξε τον τρόπο που βλέπουμε τον κόσμο.
Σε αυτό το χάρτη μπορείτε να δείτε το διαφορετικό ποσοστό υπάρχοντες χάρτες, και στην περίπτωση των χαρτών κόσμο υπάρχουν στη μέση του Ατλαντικού Ωκεανού. Φέρνοντας τη στενή του ποντικιού δείχνει το χρόνο του προϊόντος.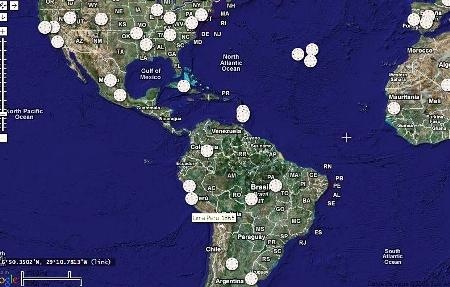 Μόλις κάνετε κλικ στο εικονίδιο, μπορείτε να δείτε την επισκόπηση του χάρτη, ένα link για να δείτε όλους τους ενδιαφερόμενους πληροφορίες σχετικά με το πρωτότυπο και το ψηφιοποιημένο χάρτη και άλλο σύνδεσμο για να δείτε αναπτυχθεί, με την οποία ενεργοποιεί μερικά ραβδιά, όπου μπορείτε να ελέγξετε τη διαφάνεια. Κοιτάξτε ανατολική Βραζιλία, 1842.
Για να τα δείτε στο Google Earth απλά πρέπει να κατεβάσετε Αυτό kmz που δεσμεύει και επιτρέπει την προβολή.
Δείτε τον χάρτη της Κολομβίας το 1840, ενώ συμπεριλαμβανομένων και τον Ισημερινό, τη Βενεζουέλα και τμήματα του Περού.
Και τι να πω από αυτό της Ανατολικής Αργεντινή, το 1867, ο χάρτης αυτός δείχνει το Native American φυλές στα μέσα του 19ου αιώνα
Είναι πραγματικά μια πολύτιμη συμβολή στη διάδοση αυτής της συλλογής χαρτογράφησης. Εδώ μπορείτε να δείτε το ολόκληρη τη συλλογή
Και αυτό είναι μια λίστα με μερικά από τα πιο σημαντικά χάρτες
몇 시간 전에 나는 Google 어스의에서 볼 수 있었다 공식 블로그하지만, 그 후 Opaco 우리를 생각 나게했다, 나는 그것이 작동 확인하는 데 몇 분 정도 걸렸습니다. 나는 Google지도 또는 Google 어스 한 럼지 컬렉션에서 오래된지도를 의미합니다.
이 예에서는 1710 이베리아 반도의지도를 보여줍니다, 스페인 카스티야와 아라곤으로 나눈 값입니다. 포르투갈도 나타납니다.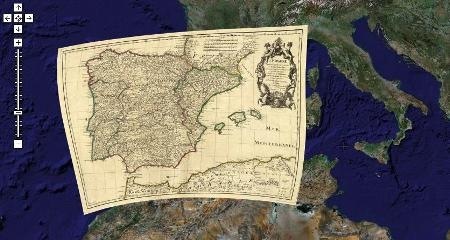 데이빗 럼지 컬렉션은 18 세기와 19 세기 (나는 읽을 때 로마 숫자 나에게 회색 머리를 얻을 수 있기 때문에 이러한 명칭을 사용합니다)의 아메리카 매핑에 주요 초점을 20 년 전에 시작하지만, 그것은 또한 아시아의 세계지도, 아프리카, 유럽, 오세아니아를 포함 . 15지도에 가까이 크기를 현재까지 수집 책, 지역, 포켓 등 학교지도, 책, 차트 및 맵의 다양한 벽, 어린이의지도 및 기타 수동으로 정교를 포함합니다.
스캔 1997에 대해 시작했다. 당신이 기억한다면, 맵은 훌륭한 세부 사항의 내용 있었기 때문에 따라서는, 높은 해상도와 중요한 문서의 종류를 가질 수 있었다, 지금은 모든 데이터베이스에 서로 다른 목적을 위해 같은 결과가 그래픽으로 표시됩니다.
물론, 목표 중 하나는 웹과 같은 Google지도와 구글 어스, 우리가 세상을 보는 방식을 변화 장난감 등 세계 인기 매핑 서비스에서 그들을 볼 수보다 더 무엇을 제공하기 위해 항상 있었다.
이지도에서는​​ 기존 맵의 서로 다른 속도를 볼 수 있고, 세계지도의 경우 대서양의 한가운데에있다. 마우스를 가까이함으로써 그 제품의 연도를 보여줍니다.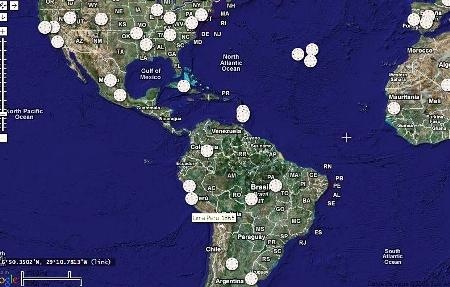 아이콘을 한 번 클릭하면 전체지도, 모든 원본 모두에서 관련 정보 및 디지털지도와 당신이 투명도를 제어 할 수있는 몇 가지 스틱 활성화되는 배포,보기에 다른 링크를 볼 수있는 링크를 볼 수 있습니다. 동부 브라질, 1842 봐.
구글 어스에서 볼려면 그냥 다운로드해야 이 KMZ 즉, 바인딩 및보고 할 수 있습니다.
아직 에콰도르, 베네수엘라와 페루의 부분을 포함하면서 1840 년에 콜롬비아이지도를 참조하십시오.
동 아르헨티나, 1867 년이에서 무슨 말을 해야할지,이지도는 19 세기의 한가운데에 아메리카 원주민 부족을 보여줍니다
정말 그 매핑 컬렉션의 보급에 중요한 공헌이다. 여기를 볼 수 있습니다 전체 컬렉션
그리고 이것은 가장 중요한 맵의 일부 목록입니다
कुछ समय पहले मैं गूगल अर्थ पर देखा था आधिकारिक ब्लॉग, लेकिन उसके बाद Opaco हमें याद दिलाया गया है, मैं यह काम कर रहा है देखने के लिए कुछ मिनट लग गए. मैं गूगल मैप्स या गूगल अर्थ पर बनाया रमसे संग्रह से पुराने नक्शे मतलब.
इस उदाहरण 1710 में औबेरियन प्रायद्वीप के एक नक्शे से पता चलता है, स्पेन केस्तिल्ला और आरागॉन से विभाजित. पुर्तगाल भी दिखाई देता है.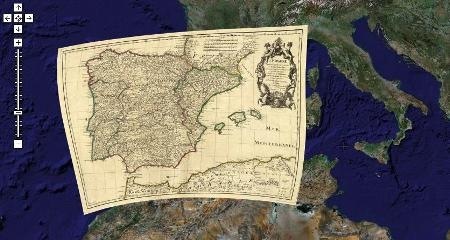 डेविड रमसे संग्रह 18 वीं और 19 वीं शताब्दी (मैंने पढ़ा जब रोमन अंकों मुझे भूरे बालों मिलता क्योंकि मैं इन नामकरण का उपयोग करेंगे) की अमेरिका मानचित्रण पर प्राथमिक ध्यान के साथ 20 साल पहले शुरू हुआ, लेकिन यह भी एशिया के दुनिया के नक्शे, अफ्रीका, यूरोप और ओशिनिया शामिल . 150,000 नक्शे को पास राशि तिथि करने के लिए संग्रह एटलस, क्षेत्रों, पॉकेट सहित स्कूल के नक्शे, किताबें, चार्ट और नक्शे की एक किस्म, दीवार, बच्चों के नक्शे और अन्य मैन्युअल सविस्तार भी शामिल है.
स्कैनिंग 1997 के बारे में शुरू हुआ. अगर तुम्हें याद है, नक्शे महान विस्तार में सामग्री रहे थे क्योंकि इस प्रकार यह उच्च संकल्प के साथ मूल्यवान दस्तावेज के इस तरह संभव हो गया था, अब सब कुछ डेटाबेस में है और विभिन्न प्रयोजनों के लिए इस तरह के परिणाम रेखांकन भी प्रतिनिधित्व कर रहे हैं.
बेशक, लक्ष्यों में से एक वेब और जैसे गूगल मैप्स और गूगल अर्थ, हम दुनिया को देखने का तरीका बदल कि खिलौने के रूप में दुनिया में लोकप्रिय मानचित्रण सेवाओं में उन्हें देखने के लिए की तुलना में बेहतर है पर सेवा करने के लिए हमेशा से था.
इस नक्शे में आप मौजूदा नक्शे के विभिन्न दर देख सकते हैं, और दुनिया के नक्शे के मामले में अटलांटिक महासागर के बीच में हैं. माउस करीब लाकर यह उत्पाद के वर्ष से पता चलता है.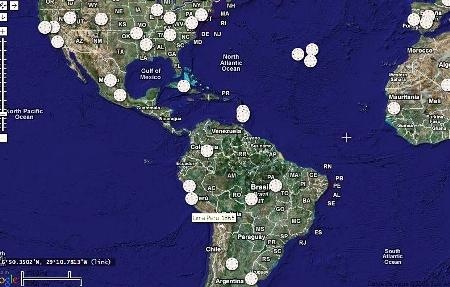 एक बार जब आइकन पर क्लिक कर, आप सिंहावलोकन मानचित्र, सभी मूल दोनों पर संबंधित जानकारी और डिजीटल नक्शे और यह आप पारदर्शिता को नियंत्रित कर सकते हैं, जहां कुछ चिपक सक्रिय है, जिसके साथ तैनात देखने के लिए एक और लिंक को देखने के लिए एक लिंक देख सकते हैं. पूर्वी ब्राजील, 1842 देखो.
Google धरती में उन्हें देखने के लिए अभी डाउनलोड करना इस KMZ कि बांध और देखने की अनुमति देता है.
अभी इक्वाडोर, वेनेजुएला और पेरू के कुछ हिस्सों सहित, जबकि 1840 में कोलंबिया के इस नक्शे को देखें.
और पूर्व अर्जेंटीना, 1867 की इस से क्या कहना, इस नक्शे को 19 वीं सदी के मध्य में देशी अमेरिकी जनजातियों से पता चलता है
यह सच है कि मानचित्रण संग्रह के प्रसार के लिए एक बहुमूल्य योगदान है. यहाँ आप देख सकते हैं पूरे संग्रह
और इस सबसे महत्वपूर्ण नक्शे से कुछ की एक सूची है
Некоторое время назад я видел в Google Планета Земля официальный блог, Но после этогоOpaco напомнил нам, я взял несколько минут, чтобы увидеть его работы. Я имею в виду старые карты от Рамси коллекции сделан на Google Maps или Google Earth.
Этот пример показывает карту Пиренейского полуострова в 1710 году, Испания деленное Кастилии и Арагона. Португалия также появляется.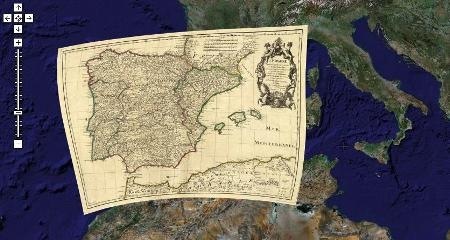 Дэвида Рамси Коллекция началась 20 лет назад, с основным фокусом на отображение и Южной Америки 18 и 19 веков (я буду использовать эти номенклатуры, потому что римские цифры поймите меня седые волосы, когда я читал), но она также содержит карты мира из Азии, Африки, Европы и Океании . Коллекции на сегодняшний день количество близко к 150 000 карт включает в себя атлас, районов, школ карты, книги, схемы и различные карты, включая карманные, настенные, карты детские и др. разработаны вручную.
Сканирование началось примерно с 1997 года. Таким образом можно было иметь такой ценные документы с высоким разрешением, потому что, если вы помните, карты были довольны в мельчайших подробностях, теперь все в базе данных и для различных целей, таких Результаты представлены графически.
Конечно, одной из целей было всегда служить в Интернете, и что может быть лучше, чем увидеть их в мир популярных сервисов отображения, такие как Google Maps и Google Earth, игрушки, которые изменили способ, которым мы смотрим на мир.
В этой карте вы можете увидеть различные скорости существующих карт, и в случае картах мира есть в середине Атлантического океана. Собрав мышь близко он показывает годом продукта.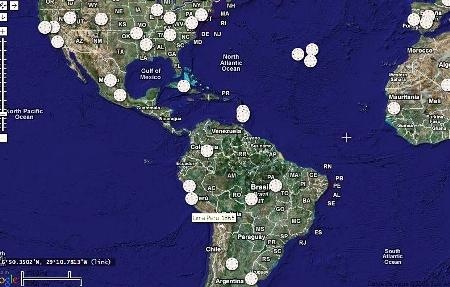 Появившийся значок, вы можете увидеть на обзорной карте, ссылку, чтобы увидеть всех заинтересованных информацию как оригинальный и оцифрованные карты и другую ссылку для просмотра развернуто, с которой он активирует некоторые палочки, где вы можете контролировать прозрачность. Посмотрите востоке Бразилии 1842 года.
Для их просмотра в Google Earth только нужно скачать это КМЗ , который связывает и позволяет просматривать.
Смотрите эту карту Колумбии в 1840 году в то же время в том числе Эквадоре, Венесуэле и части Перу.
А что сказать с этой восточной Аргентине, 1867, эта карта показывает индейских племен в середине 19-го века
Это действительно ценный вклад в распространение, что отображение коллекции. Здесь вы можете посмотреть Вся коллекция
И это список некоторых из наиболее значительных карты
לפני כמה זמן ראיתי ב- Google Earth של בלוג רשמי, אבל אחרי זה Opaco הזכיר לנו, לקחתי כמה דקות כדי לראות אותו עובד. אני מתכוון במפות הישנות מהאוסף של רמזי עשה ב-Google Maps או Google Earth.
דוגמה זו מראה מפה של חצי האי האיברי בשנת 1710, ספרד מחולקת קסטיליה ואראגון. פורטוגל גם מופיעה.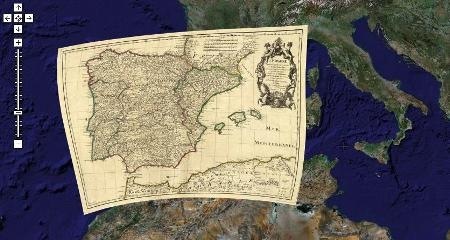 דוד Rumsey אוסף החל לפני 20 שנים, עם התמקדות ראשונית על מיפוי אמריקה של המאות ה -18 וה -19 (אני אשתמש במינוח אלה כי ספרות רומית תבין אותי שיער אפור כשאני קורא), אבל הוא מכיל גם מפות עולם של אסיה, אפריקה, אירופה ואוקיאניה . האוסף עד כה סכום קרוב ל -150,000 מפות כולל אטלס, אזורים, מפות, ספרים, תרשימים ועוד מגוון של מפות, כולל כיס, קיר, מפות של הילדים אחרים והרחיב באופן ידני.
הסריקה החלה על שינה 1997. כך ניתן היה לקבל מסמכים בעלי ערך עם רזולוציה גבוהה מסוג זה, כי אם אתה זוכר, מפות היו תוכן בפירוט רב, עכשיו הכל במסד נתונים ולמטרות שונות תוצאות כאלה מיוצגות באופן גרפי.
כמובן, אחת המטרות הייתה תמיד לשרת באינטרנט ומה יותר טוב מלראות אותם בשירותי המיפוי הפופולריים בעולם, כגון Google Maps ו-Google Earth, צעצועים ששינו את הדרך בה אנו רואים את העולם.
במפה זו ניתן לראות את השיעור של מפות קיימות שונה, ובמקרה של מפות עולם יש באמצע האוקיינוס ​​האטלנטי. על ידי הבאת העכבר הקרוב הוא מראה שנה של המוצר.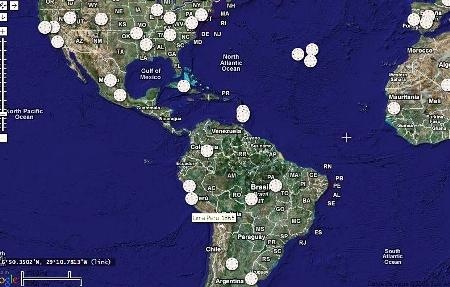 ברגע שלחץ על הסמל, אתה יכול לראות את מפת סקירה, קישור כדי לראות את כל המידע הנוגע בדבר על מקורי והן את המפה הדיגיטלית וקישור נוסף על מנת לצפות פרוס, שבה הוא מפעיל כמה מקלות שבו אתה יכול לשלוט על השקיפות. חפש המזרחי ברזיל, 1842.
כדי להציג אותם ב-Google Earth פשוט צריך להוריד KMZ זה שקושר ומאפשר צפייה.
ראה מפה זו של קולומביה בשנת 1840 ועדיין כולל אקוודור, ונצואלה וחלקים מפרו.
ומה לומר מזה של מזרח ארגנטינה, 1867, מפה זו מציגה את שבטים אינדיאני באמצע המאה ה -19
זה באמת תרומה רבת ערך להפצתו של אוסף שהמיפוי. כאן אתה יכול לראות האוסף כולו
וזו רשימה של כמה מהמפות החשובות ביותר
Bir süre önce Google Earth üzerinde görmüştü resmi bloguFakat bundan sonra Opaco bize hatırlattığı, ben o çalışma görmek için birkaç dakika sürdü. Google Maps veya Google Earth üzerinde yapılan Rumsey koleksiyonundan eski haritalar anlamına gelir.
Bu örnek, 1710 yılında İber Yarımadası'nın bir harita gösterir, İspanya Castilla ve Aragon bölünmesiyle. Portekiz de görünür.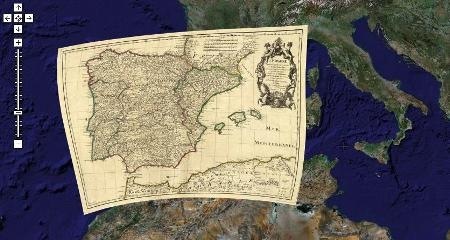 David Rumsey toplama 18. ve 19. yüzyıllarda (Ben okurken Roma rakamları bana gri saç olsun, çünkü ben bu isimlendirme kullanacak) ve Amerika haritalama üzerinde odak noktası ile, 20 yıl önce başladı ama aynı zamanda Asya'nın dünya haritaları, Afrika, Avrupa ve Okyanusya içerir . 150.000 haritalar yakın miktarı bugüne kadar toplama atlas, alanları, Cep dahil olmak üzere okul haritalar, kitaplar, grafik ve haritaları çeşitli, duvar, çocuk hakkında haritalar ve diğer elle ayrıntılı içerir.
Tarama 1.997 hakkında başladı. Eğer hatırlarsanız, haritalar çok detaylı içerik çünkü Böylece, yüksek çözünürlüklü değerli belgelerin bu tür olması mümkün, şimdi her şey veritabanında ve farklı amaçlar için bu tür sonuçlar grafiksel olarak temsil edilmektedir.
Tabii ki, hedeflerinden biri web ve Google Maps ve Google Earth, dünya görmek şekilde değişti oyuncak gibi dünyanın popüler haritalama hizmetleri, bunları görmek için daha iyi ne hizmet için her zaman oldu.
Bu haritada, mevcut haritaların farklı oran görebilir ve dünya haritaları durumunda Atlantik Okyanusu'nun ortasında bulunmaktadır. Fare yakın getirerek, bu ürünün yıllık gösterir.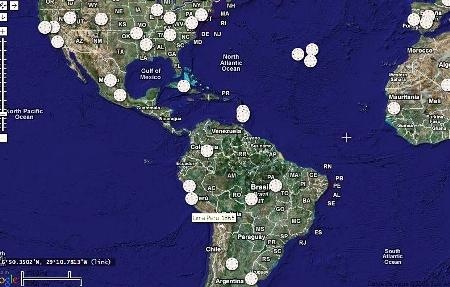 Bir kez simgesi tıklandığında, size bakış haritasında, tüm orijinal hem de ilgili bilgi ve sayısal harita ve size şeffaflık kontrol edebilirsiniz bazı sopa aktive ile, dağıtılan görünümünde başka bir bağlantı görmek için bir bağlantı görebilirsiniz. Doğu Brezilya 1842 bak.
Google Earth onları görüntülemek için sadece indirmeniz gerekiyor Bu kmz Bu bağlar ve görüntülenmesini sağlar.
Hala Ekvador, Venezuela ve Peru parçaları dahil olmak üzere iken 1840 yılında Kolombiya haritayı bakın.
Ve Doğu Arjantin, 1867 bundan ne diyeceğini, haritayı 19. yüzyılın ortasında yerli Amerikan kabileleri gösterir
Gerçekten bu haritalama toplama yayılması için değerli bir katkıdır. Burada görüntüleyebilirsiniz tüm koleksiyonu
Ve bu en önemli bazı harita bir listesi
Enige tijd geleden had ik gezien op de Google Earth officiële blog, Maar daarna Opaco heeft ons eraan herinnerd, nam ik een paar minuten aan het werk zien. Ik bedoel de oude kaarten uit de Rumsey collectie gemaakt op Google Maps of Google Earth.
Dit voorbeeld toont een kaart van het Iberisch schiereiland in 1710, Spanje gedeeld door Castilla en Aragón. Portugal verschijnt ook.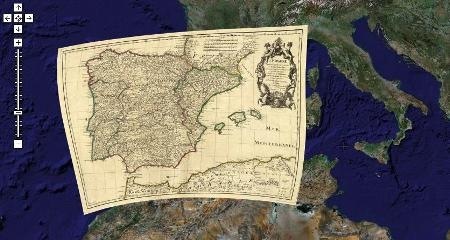 David Rumsey collectie begon 20 jaar geleden, met een primaire focus op het in kaart brengen van de Amerika's van de 18e en 19e eeuw (Ik zal deze nomenclatuur gebruiken omdat Romeinse cijfers get me grijze haren als ik lees), maar het bevat ook wereldkaarten van Azië, Afrika, Europa en Oceanië . De collectie tot op heden bedragen de buurt van 150.000 kaarten omvat atlas, gebieden, school kaarten, boeken, grafieken en een verscheidenheid aan kaarten, waaronder Pocket, muur, kaarten voor kinderen en andere handmatig uitgewerkt.
Het scannen begon ongeveer 1997. Zo was het mogelijk om dit soort waardevolle documenten met een hoge resolutie te hebben, want als je herinneren, kaarten waren gehalte in groot detail, nu is alles in de database en voor verschillende doeleinden zoals resultaten worden grafisch weergegeven.
Natuurlijk, een van de doelen was altijd om te dienen op het web en wat is er beter dan om ze te zien in de wereld populaire mapping services, zoals Google Maps en Google Earth, speelgoed dat de manier waarop we de wereld veranderd.
Op deze kaart kunt u de verschillende snelheid van de bestaande kaarten te zien, en in het geval van wereldkaarten zijn er in het midden van de Atlantische Oceaan. Door aanpassing van de muis dichtbij het toont het jaar van het product.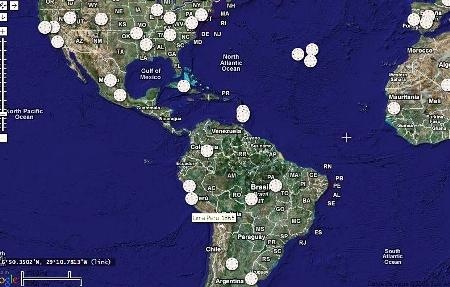 Eenmaal geklikt op het pictogram, kunt u de overzichtskaart, een link naar alle betrokkenen informatie over zowel het origineel als de gedigitaliseerde kaart en een andere link naar aanzicht ingezet, waarmee het activeert sommige sticks waar u de transparantie kan controleren zien. Kijk oostelijk Brazilië, 1842.
Om ze te bekijken in Google Earth hoeft alleen te downloaden dit kmz dat bindt en maakt het bekijken.
Zie deze kaart van Colombia in 1840, terwijl nog inbegrip Ecuador, Venezuela en delen van Peru.
En wat te zeggen van deze Oost-Argentinië, 1867, deze kaart toont de inheemse Amerikaanse stammen in het midden van de 19e eeuw
Het is echt een waardevolle bijdrage aan de verspreiding van die mapping collectie. Hier kunt u bekijken de gehele collectie
En dit is een lijst van enkele van de belangrijkste kaarten